Putting the "I" in "Inclusion" During Disability Pride Month
By Richard Belden
•
07/05/2023


Throughout July in recognition of Disability Pride Month, SourceAmerica® joins the nation in celebrating the unique talents, abilities, and contributions of all people with disabilities. As SourceAmerica's President and Chief Executive Officer, I work closely with our Board of Directors, a national network of nonprofit agencies, federal customers, and a talented team to increase employment opportunities for this historically underemployed group. Nearly 70% of working-age people with disabilities do not have jobs.
Disability inclusion at work is about more than hiring people with disabilities. It's about valuing all employees for their strengths; embracing individual differences; and offering employees with disabilities equal access to employment and opportunities to succeed, learn, advance, and earn competitive wages.
This Disability Pride Month, I'd like to highlight several individuals employed at SourceAmerica network nonprofits who make America's workforce more inclusive.
Wanda Thompson (pictured at left) works for nonprofit agency EPSI based in Lakeway, Texas. She is a person who is blind who is also a certified Environmental Services Technician working on a federal AbilityOne contract cleaning Bayne-Jones Army Community Hospital's surgical pavilion. Wanda is grateful to have found an employer that offers her a supportive work environment and numerous professional opportunities.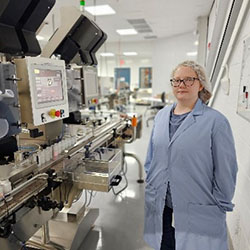 Danielle Pierce (pictured at right) is an employee at the NPA Transylvania Vocational Services based in Brevard, North Carolina. Danielle's job was recently automated, and TVS committed to keeping 100% of its workforce throughout the process. Danielle now operates the machine as Lead Production Associate and provides training and mentorship to her peers. Her dedication and commitment to her work have made her an invaluable asset to TVS and a role model for others.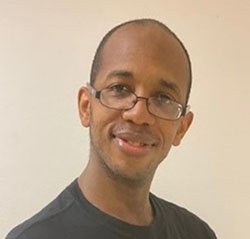 Custodian Greg Blakely (pictured at left) is a person with autism who works for NPA Didlake based in Manassas, Virginia. Greg works on an AbilityOne contract to keep the Pentagon clean for the tens of thousands of people who visit the military installation each day. Greg appreciates his job, saying it gives him drive and focus.
Wanda, Danielle, and Greg are great examples of how individuals with disabilities are supporting business success and contributing to their local communities. We, as leaders and hiring managers, must do our part to change the status quo for disability employment. Quite simply - putting the "I" in "inclusion" starts with us.
Here are a few examples of how leaders and hiring managers can strengthen disability inclusion within their teams and workplaces:
Set the tone and direction. Leaders should be able to articulate and create alignment around disability hiring and inclusion objectives, as well as commit to strategic actions that will drive the desired results.
Elevate equal access. It's important that all people, including people with disabilities, have fair and equal access to opportunities in the workplace. It's important to have company websites and materials that can be read by screen readers, video with closed captions, and office spaces that are compliant with Americans with Disabilities Act standards.
Lead inclusively. Inclusion requires intentional and ongoing efforts by leaders to promote the full participation of every employee. To ensure that people with disabilities are both hired and feel welcome in the workplace, leaders must update their policies and practices; make the necessary job accommodations; provide employee trainings on disability awareness; and develop new tools and resources that support their full inclusion in the workplace.
Achieving the American Dream requires opportunity to be within reach for everyone, including people with disabilities. By putting the "I" in inclusion, we can each do our part to be a force multiplier for disability employment.
Richard Belden is the President and Chief Executive Officer at SourceAmerica.
---
Enjoy this? You might like these stories, too: