Also known as a Multiple Award Schedule, the Federal Supply Schedule is a long-term General Services Administration (GSA) contract that provides access to millions of products and services. It's available to all federal agencies.
Volume discount savings and a simplified process.
The Federal Supply Schedule mirrors commercial buying practices and uses the purchasing power of the federal government to obtain volume discounts on commonly used supplies and services. It saves time and money with a streamlined process, at pre-negotiated ceiling rates that have been deemed fair and reasonable by the GSA.
The GSA determines contractor responsibility, enabling Federal Supply Schedule work to start. Once the government approves the work to move to the AbilityOne® Procurement List, SourceAmerica® can facilitate that process.
SourceAmerica holds the following GSA Schedules:
Supply and Value Chain Management Services and Operations & Maintenance Logistics Management and Support Services (GSA Schedule 00CORP)
Logistics Consulting for Planning for the Acquisition and Life Cycle Phases of Supply and Value Chain Systems including the following: 
Operation of warehouses, stockrooms, storage facilities or depots 
Inventory/asset/vendor management
Inventory management and operation (inclusive of salvage, recycle and/or disposal management) 
Fulfillment systems and operations
Packaging, labeling, bar coding system consultation, design, implementation, operation and maintenance 
Warehouse and location management systems
Recycling program management of warehousing materials
Property disposal management
Supply chain integration planning
Defining and establishing program objectives, strategies, plans and schedules 
Develop, document and support maintenance procedures 
Configuration data management and related documentation 
Operations & Maintenance Logistics Management and Support Services, a turnkey/total solution in support of logistics functions:
Base operations support (BOS)
Preventative maintenance planning 
Maintenance and repair 
Depot maintenance
Warehousing
Fleet Management
Fleet/property management and maintenance
Mobile utility support equipment operation
Strategic account/project management 
Integrated facility management 
Operations management support
Courier Services
Custodial (combined with another service)
Grounds (combined with another service)
Scanning Services
To learn more, see Supply Chain Management and Warehouse Services. 
Complete Facilities Maintenance and Ancillary Repair Alterations (GSA Schedule 03FAC)
The following can be purchased as standalone services:
Facilities Services
Janitorial/Custodial Services
Grounds Maintenance
Laundry Services
Plumbing
Electrical Services
Locksmith Services
Cemetery Maintenance
Fire Alarm Systems (as part of total facilities maintenance services) 
Fire Suppression Systems (as part of total facilities maintenance services)
Pest Control Services
Refrigeration Maintenance
Tree Trimming 
Water Distribution Systems (as part of total facilities maintenance services)
To learn more, see Total Facilities Management.
GSA Schedule 36, Document, Records and Mailroom Management Services
Records Management
Document Production (on- and off-site)
Document Conversion
Document Destruction
Mail Room Services (administrative, presort, list management, mail screening/inspection, miscellaneous)
To learn more, see Records and Document Management Service.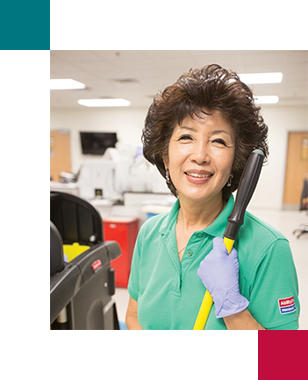 Clean workspaces inspire high morale: Janitorial Services
Scientists at the San Francisco Bay Estuary do the important work of preserving its delicate natural habitat. SourceAmerica® provides clean, sanitary workspaces through our nationwide nonprofit agency network. From protecting facility staff health to creating a clean atmosphere that boosts employee morale, our diligent workforce of professionals with disabilities takes care of it all, including:
Reducing allergens by thoroughly dusting office and conference room furniture and fixtures
Vacuuming carpets and rugs to remove dust, pollen, and other debris
Sanitizing the kitchen and restrooms
Through a $300,000 contract, SourceAmerica also supports the efforts of a premier security agency to protect America's borders, while creating jobs for people with disabilities. We provide a full range of janitorial services to several facilities in the U.S. Virgin Islands, including floor care, restroom sanitization, and HVAC system cleaning.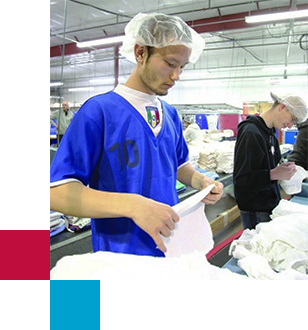 Helping the people caring for America's veterans: Laundry Services
SourceAmerica provides laundry services for a medical facility that takes care of veterans. Using standards set by the National Association of Institutional Linen Management, our meticulous workforce:
Collects dirty bedding, uniforms, patient clothing, mops, and linens
Transports to a facility for washing, disinfecting, and drying, and when necessary, ironing and folding
Wraps and returns in a manner that prevents contamination.
SourceAmerica's Federal Supply Schedules can provide valuable services to your agency with the added benefit of creating employment opportunities for people with disabilities.