Loehl Kelley
ServiceSource, Security Specialist II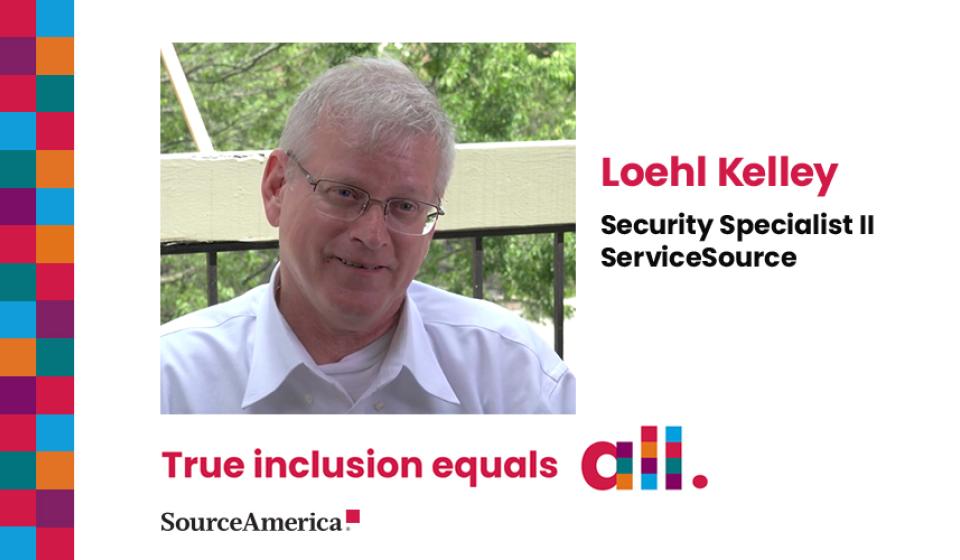 Watch Video:
Loehl Kelley, ServiceSource, Security Specialist II
Loehl Kelley loves to seize career opportunities and has an exceptional character. He exhibits grit, integrity, and compassion in all that he does. Loehl Kelley's employment journey demonstrates how passion can trump adversity in the pursuit of reaching your goals. Loehl's inner strength and confidence in his abilities kept him from giving up and allowed him to find a job where he is utilizing all his skills sets and is appreciated and respected.
Loehl worked at the Defense Logistics Agency for 25 years, employed under the Federal Government Schedule A. He was an excellent employee, successfully responding to customer inquiries and managing day-to-day tasks. Loehl retired early in 2010 from the Federal Government to support his family. Loehl was still interested in seeking employment opportunities and after moving to upstate New York with his family, he connected with Vocational Rehabilitation services to receive support in finding a job.
Loehl is hard of hearing and has physical disabilities. For five years, Loehl engaged with VR to help him secure employment, but they were unsuccessful, only offering him interviews for jobs in grocery stores and other retail options. This time was difficult for Loehl, negatively impacting his self-confidence and home life. Loehl recalls feeling sad and angry during those five years, desperately wanting to "do good" for the world, but not getting the opportunity to apply himself. Loehl never gave up on his desire to work. He learned of ServiceSource and contacted us about employment, eventually landing a job as an Inventory Specialist at the Mark Center on an AbilityOne contract in Alexandria, VA, in August 2015. Loehl thrived in his role at the Mark Center, organizing projects and overseeing critical operations for the contract.
In June 2018, Loehl learned of another AbilityOne contract at the Mark Center, which could provide additional opportunities for advancement. He applied to and accepted the position of Site Maintenance Specialist on the AbilityOne contract. With support from ServiceSource, Loehl secured a higher-level security clearance and was recognized for his performance by earning a promotion. He worked as a Security Escort in August 2020 and was promoted to Security Specialist II in January 2022. With support from ServiceSource and by leveraging the opportunities of the AbilityOne Program, Loehl has been promoted or made advancements in his employment on a Federal Government contract site four times in four years. His job has allowed him to live independently in his own apartment, while his skills and knowledge are valued and recognized on the job.