Chris Collins
Helpful Hands, Inc., EVS 2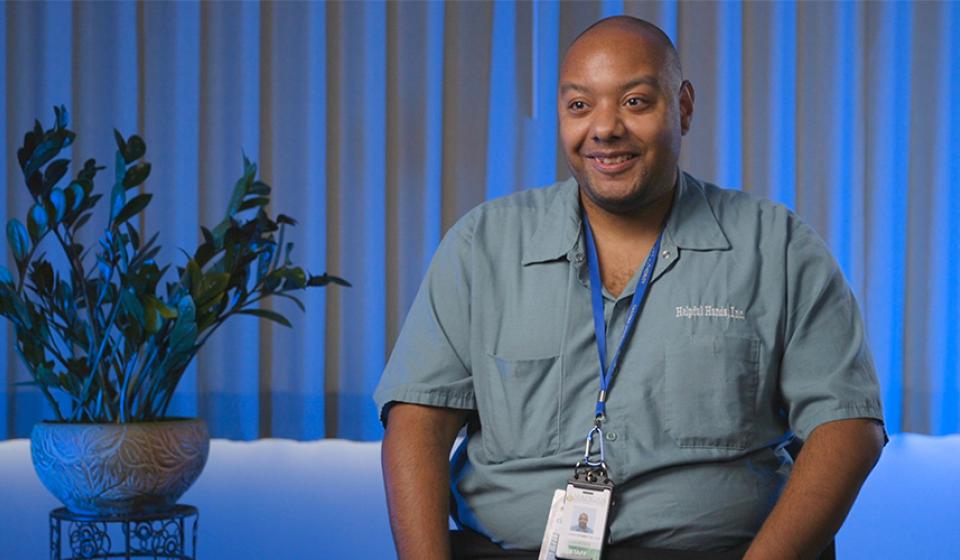 Watch Video:
Chris Collins, Helpful Hands, Inc., EVS 2
Chris Collins exemplifies what can be accomplished from hard work, dedication and a positive attitude. Chris started working for Helpful Hands, Inc. in April 2021. He began work on a cleaning contract at the Madigan Army Medical Center in Lakewood, WA. Within a year of employment, Chris was promoted to an EVS 2, started working independently, and moved into his own apartment for the first time.
When Chris first started his new job, the size of the medical campus was intimidating. He was assigned to work with a team lead and given the guidance and resources to become comfortable in the job and the work environment. During the next year, his supervisors saw Chris come into his own, both personally and professionally. "We saw tremendous growth in Chris' social skills, confidence and interaction with other employees," said Assistant EVS Executive Adam Nelson. "His commitment impressed us all so much." Chris said he really enjoys working with professional people every day that treat each other with respect, support and kindness.
Chris was soon promoted to an EVS 2, which meant Chris would work on his own, increase his hours to a full-time work week, and receive a significant wage increase. Quality Manager Felicia Williams says his success is all due to his determination. "Moving to an EVS 2 position is a great thing. I encourage all of our employees to learn as much as they can and push themselves to try new things because Helpful Hands believes in promoting from within. I think Chris is the perfect example of that."
With independence on the job also came independence at home. Chris was able to move into his own apartment and smiles when he says, "Living on my own feels epic. I get my own fridge and my own kitchen and own living room, and the rest is history." Chris' independence both at work and at home is one of his proudest achievements. Christopher remembers when his mother gave a speech during his recent 30th birthday celebration and told everyone how proud they were of the young man he had become. He says with satisfaction: "I finally feel like I have accomplished a lot of my goals."
Adam Nelson explains how important the AbilityOne program is in helping people with disabilities reach their goals: "the AbilityOne program is extremely important because it not only partners with various organizations across the country to assist in employing individuals with disabilities, but it also helps creates a lifelong foundation of a strong work ethic and independence."