Putting Disability in the Equity Equation, 365 Days a Year
By Wes Tyler
•
10/11/2022


This October during National Disability Employment Awareness Month (NDEAM), the U.S. Department of Labor, Office of Disability Employment Policy has challenged all Americans to make disability part of the equity equation. Equity is something I think a lot about as Executive Vice President and Chief Operating Officer at SourceAmerica®, and because it is central to our organization's mission: increasing employment for people with disabilities through strong partnerships with the Federal Government and our nonprofit agency network. For us, NDEAM is 365 days a year. With 11 million open jobs in the current labor market (U.S. Bureau of Labor Statistics), people with disabilities are a largely untapped and valuable talent pool.
In my role, I regularly visit nonprofit agencies that provide industry-leading products and services to the Federal Government. These businesses exemplify equity as they advocate strongly for the employment of people with disabilities to be an equal part of the diversity, equity, and inclusion equation. In addition to providing job coaching, accommodations, and supportive work environments, many also participate in the federal AbilityOne Program®, one of the largest sources of employment for people who are blind or have significant disabilities. Simply put, they have the necessary structures in place so that people with disabilities can work, be self-sufficient, and achieve career success. These agencies recognize and value the many benefits that this underserved segment of the population brings to the workforce. In fact, there are more than 575 nonprofits across the country that help advance SourceAmerica's mission.
During these visits, I focus on building stronger connections with each nonprofit agency. At the same time, I look for ways that SourceAmerica can amplify their disability employment efforts through business development, employee training, financial assistance, and legislative advocacy, to name a few.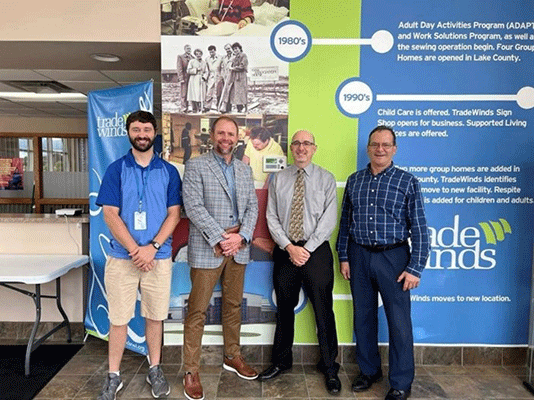 On a recent trip to Work Services Corporation in Wichita Falls, Texas, we talked about the diversity of jobs they offer people with disabilities, such as commissary shelf-stocking, mail service, dormitory maintenance, and food service operations, and how we can continue expanding their business portfolio. While touring Goodwill of Greater Washington in Washington, D.C., we discussed ways to further enhance customer satisfaction for their custodial contracts. At Tradewinds in Merrillville, Indiana (pictured at right), we brainstormed about how we can continue innovating to meet customer needs for their cut and sew operation. It's this special, ongoing partnership between SourceAmerica and our NPA network that not only supports the collective employment of more than 65,000 people with disabilities nationwide, but also ensures that disability is part of the equity equation every day of every year.
Here are a few examples of how you can enable a more equitable workplace for people with disabilities:
Commit to hiring people with disabilities. Ensure that opportunities are available to people with disabilities by establishing a percentage hiring goal. Also, consider which jobs could be remote for those with mobility or transportation challenges, as well as other types of disabilities that may require a remote work setting.
Provide an accessible environment. Company resources and opportunities, as well as physical spaces and materials, should be accessible. For example, it's important to have meeting rooms that are wheelchair-friendly, closed captions on video presentations, and company websites and materials that can be read by screen readers.
Educate your employees. People with disabilities have personal preferences regarding how they identify. Whether it's person-first language or identity-first language, it's important to understand and respect their preferences.
Re-evaluate your equity practices. Make sure that people with disabilities are part of your workforce and can advance within the company in a meaningful way.
I invite you to celebrate NDEAM along with us and learn how SourceAmerica is creating a more equitable workforce.
Wes Tyler is the Executive Vice President and Chief Operating Officer at SourceAmerica.
---
Enjoy this? You might like these stories, too: