Organization and efficiency bring workplace success
By Tatiana Peralta
•
05/16/2021


Liz Cooper is a team player on many levels. Whether in the workplace or in the Olympic pool, she is an impressive and dynamic individual.  
Ohio-based Coleman Data Solutions is one of approximately 700 nonprofit agencies in the SourceAmerica® network with a knack for successfully recruiting and hiring people with disabilities. Coleman Data Solutions employs 50 people with disabilities to work on an AbilityOne® contract that supports the Department of Homeland Security, Customs and Border Patrol with document management. Among these individuals is Liz Cooper – a "super star" employee.
When people travel in and out of the United States, Cooper dispatches ticket information, scans, and organizes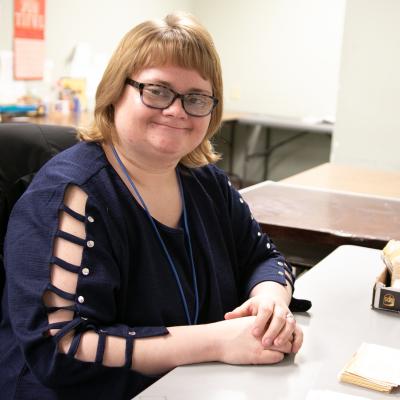 documents directly from her worksite in the Coleman Data Solutions mailroom. As a production worker, she has a direct role in keeping the contract moving seamlessly. Cooper is employed by Coleman Data Solutions through the AbilityOne Program, one of the largest sources of employment for people who are blind or have significant disabilities.
A key part of Cooper's job is keeping things organized, and it comes naturally to her. When recruiting for this position, leadership at Coleman Data Solutions was specifically looking for this trait. During the interview process, they noticed how Cooper's attention to detail could be an asset to their team. Shortly after, she was given a position where she has thrived to become one of the organization's strongest employees.
Cooper spends her day methodically figuring out the best way to handle, process, and scan documents to achieve the greatest productivity outcome. With her ability to concentrate on even the smallest details, she can go through hundreds of documents in one hour. She meticulously removes staples, repairs tears, and ensures each document is perfectly aligned before it goes through the scanner.
The Coleman Data Solutions leadership team, in conjunction with Cooper's manager, Fred Brown, has set her up for success over the past seven years. "Fred challenges my ability, and he knows I can do it," she said. "If I need an accommodation, he supports me so I can do my job easier. Everyone around me has faith in me."
Cooper believes that more hands-on support would help people like her to adjust to the workload. She wishes more organizations would provide employment opportunities for people with disabilities. "We are all human, it doesn't matter if we have a disability or not," she said.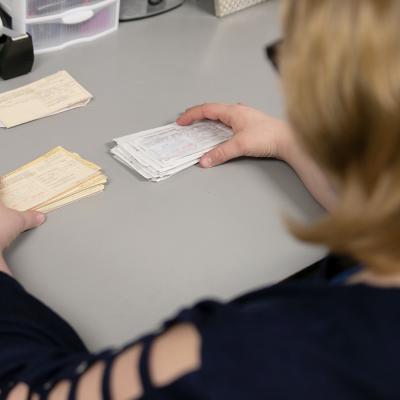 In the future, Cooper hopes to take on more job duties and learn new tasks. She is an excellent multi-tasker and hopes to grow that skillset with the support of her supervisor. Brown has no doubt that she will excel no matter what challenges she may face. While Cooper's work is often touted by those around her, she is also recognized for her spirit and positivity.
"Liz brings so much to the company." said Fred. "She is a hard worker and very conscientious. She is also very organized. But the best thing about Liz is none of that. The best thing is her smile. She brings so much personality and joy to everyone around her. I think I value that more than anything else."
Outside of work, Cooper is on a local swim team and has competed through Special Olympics for nearly a decade. As one of the strongest swimmers on her team, she has won over 100 awards, medals, and ribbons. It's clear that no matter what she sets her mind to, she always paves a path to success.
If you're interested in employing people with disabilities at your organization, please contact customerservice@sourceamerica.org.
---
Enjoy this? You might like these stories, too: