How the Public and Private Sector Can Help More People with Disabilities Find Employment
By Caroline Satchell
•
10/05/2023


A new SourceAmerica survey finds that almost half of respondents believe individuals with disabilities are not given equal opportunities for employment and advancement in the workplace. More than 16 million working-age Americans have disabilities. Yet only 35 percent of them have jobs. It is clear more needs to be done to connect people with disabilities to job opportunities.
SourceAmerica's national survey of 1,000 employed Americans without disabilities and 1,000 employed Americans with disabilities showcases overwhelming support for including individuals with disabilities in public and private sector efforts. Almost all respondents (93 percent) think that the government and private sector should actively support employment opportunities for individuals with disabilities.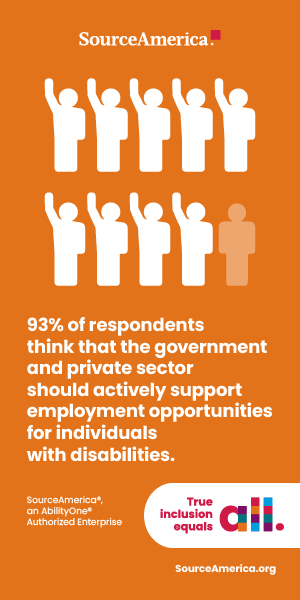 The question remains: how best to do that? One simple measure is to ensure that the federal government supports employing people with disabilities in the same manner it does for other programs that are designed to create a more robust and vibrant economy. Currently, individual federal agencies have procurement contracting goals set by the Small Business Administration that range between 3 percent and 23 percent for small business programs. Yet the AbilityOne Program, established to help employ more people with disabilities through federal contracts, has no contracting goal. If implemented, a procurement contracting goal would require all federal agencies to spend at least 1 percent of their federal contracting budgets with AbilityOne authorized providers.
Why is this goal important? Because contracting goals highlight the government's priorities and incentivize federal agencies across the board to make it a priority as well. This one small policy change could significantly increase employment opportunities for people with disabilities, who are a largely untapped talent pool.
Read SourceAmerica President and CEO Richard Belden's full article.
---
Enjoy this? You might like these stories, too: