Driving toward a mission: A day in the life of Alexander Gobbo
By Tatiana Peralta
•
10/29/2020
From Monday to Friday, Alexander Gobbo wakes up at his home in Lansing, Michigan with a destination in mind.  As Alex prepares for the workday, he is fueled by his desire to help others, and most importantly, the ability to support himself.   
The road to employment 
Throughout his journey, Alex faced significant barriers in finding employment. After months of searching for a job, he was referred to Peckham, one of more than 700 nonprofit agencies within the SourceAmerica® network, to work on an AbilityOne® Program contract. The AbilityOne Program is one of the largest sources of employment for people with disabilities in the United States.    
"By being a facilitator of the AbilityOne Program, SourceAmerica has impacted my life greatly. The program gives opportunities to people with disabilities by providing job training and independence. The value of the program can't be understated," said Alex. 
Through AbilityOne, Alex found a specialty that matched his skills working on an information technology contract for a federal customer. Since joining Peckham in 2013, Alex has since graduated from the AbilityOne Program to become a full-time employee of Peckham. Today, he oversees various parts of the federal contract and provides support to AbilityOne employees. His goal is to mentor those employees in the same way he was inspired.  
"The support that SourceAmerica has given to community rehabilitation services programs and those organizations that operate with it, like Peckham, has provided an environment for people with disabilities to get the job training they need," said Alex. "Having a job gives them independence and a sense of identity, and here at Peckham, a living wage." 
Peckham has played an instrumental role in Alex's journey, funding both his IT certification as an AbilityOne employee and the training Alex needed to receive his driver's license. Transportation is often a roadblock for many people with disabilities, impacting their ability to work and have a daily life.  
"People with disabilities would like to make our own choices -- go where we want, when we want, and how we want," he said. "Getting into my own car to drive to work is extremely freeing and empowering. I am thankful for the support of Peckham in achieving that milestone." 
The ability to give back and build a sense of community is what motivates Alex, and the journey to his destination is far from over. Alex is currently on a management track and is looking forward to seeing what the future holds in store. He is a fierce advocate for people with disabilities, inspiring others to advocate as well and impacting the lives of everyone around him.  
To learn more about SourceAmerica, please email customerservice@sourceamerica.org.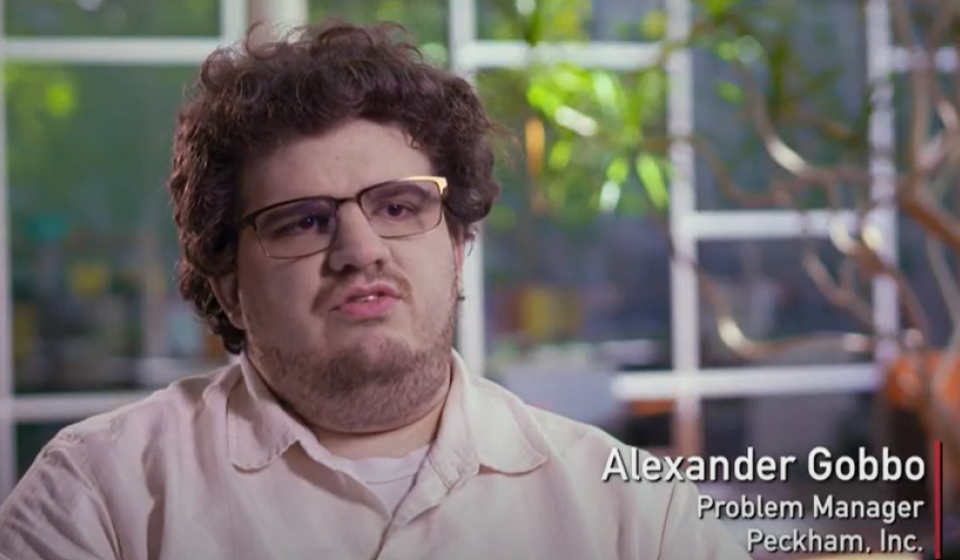 Watch Video:
A Day in the Life: Alexander Gobbo
---
Enjoy this? You might like these stories, too: