A day in the life of Michael Haynes: A Kennel Caretaker
By Tatiana Peralta
•
12/11/2020

Despite COVID-19, many people are still choosing to travel through airports to visit family and friends. This means that the work performed by U.S. Customs and Border Protection at airports nationwide is an essential function of the federal government. Within the Customs and Border Protection at New York's John F. Kennedy Airport (JFK), there is a Canine Unit (K-9) that employs people with disabilities through the AbilityOne® Program, one of the largest sources of employment for people who are blind or have significant disabilities in the United States.
Michael Haynes is a Kennel Caretaker at JFK and is employed on that contract through the nonprofit agency The Corporate Source. The Corporate Source is one of more than 700 nonprofit agencies within the SourceAmerica® network, which employs more than 80,000 people with disabilities nationwide.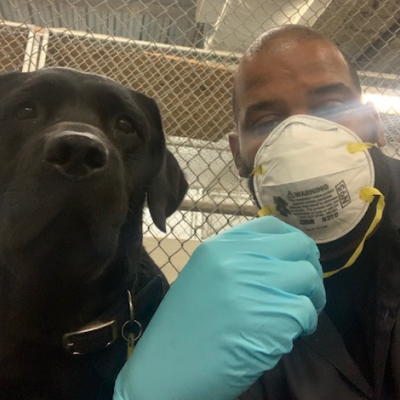 From 6:00 a.m. to 5:00 p.m., Michael's sole focus is on the 23 service trained dogs at the airport's kennel. These K-9s help Customs and Border Patrol staff detect narcotics, bombs, illegal currency, and more. As the dogs work hard to keep airports safe, Michael is attending to their every need. Some of the K-9s have allergies and need medication, which means Michael's job requires a lot of detailed attention, love, and care. Michael's intuition never fails, and he can instantly tell when something is wrong.
In one instance, he noticed one of the dogs he was caring for was laying on his back and seemed to not be feeling well. Instinctively, Michael knew exactly what to do. By providing the dog some extra attention and offering little bits of water throughout the morning, the dog recovered quickly and was ready to get back to work that afternoon.
Michael joined The Corporate Source in 1999 after meeting a job coach that saw his potential and placed him in his current role. Quickly, he worked his way up, and for the past 18 years has been the lead team member at the kennel.
"Since I started working with The Corporate Source, they have always made sure I am okay. They have always supported me and offered to help," said Michael.
In addition to his traditional office hours, Michael also manages the team members that come in on the weekends to supervise the dogs.
"Michael is just one of our many employees at The Corporate Source who have grown with our organization over a long and solid tenure and who demonstrates a terrific record of commitment to his job," said Director of Operations and Michael's project manager Kenneth Heaney. "People with disabilities, when offered the opportunity and tools to excel, thrive in the workplace and deliver their very best. Michael illustrates pride, productivity and purpose in action!"
Michael's longevity and dedication have made him an integral part of the Customs and Border Protection team at JFK. He is included in holiday celebrations, participates in their trainings, and goes with the officers to buy supplies for the dogs. They have truly embraced him.
Earlier this year, JFK's Customs and Border Protection Port Director Francis Russo shared these words during an award ceremony where Michael was honored with a plaque and coin: "Your tireless efforts to maintain the health and safety of the canines under your care has not gone unnoticed. Without your dedication, the Canine Unit would be unable to complete their mission of safeguarding America's borders."
Aside from his other assigned responsibilities, Michael also offers tours of the kennel to school-aged kids. He teaches students about the different types of K-9s, and shares stories about what his job entails – including information about why these dogs are so important to our national security.
Michael hopes that Customs and Border Protection at JFK will expand the kennel in the future so he can manage its growth. As one of the longest-running employees at The Corporate Source, it is clear that Michael's commitment to the job shines through everything that he does.
If you're interested in working with SourceAmerica to employ people with disabilities at your company, please contact customerservice@sourceamerica.org.
---
Enjoy this? You might like these stories, too: