A Day in the Life of Donald Dotson
By Tatiana Peralta
•
11/19/2020

There are two words that stand out when people describe Donald Dotson: dedicated and persistent. In the last two years, Donald has gone from homeless and jobless to employed, car owner, and apartment renter all on his own.

Donald is a U.S. Air Force veteran who served from 1968 to 1972. During that time, he traveled to South Korea, Japan, Germany, and Spain. Donald is grateful for his time in the service because it offered him opportunities he may have never experienced otherwise. After his time in the military concluded, Donald faced many challenges. These barriers eventually led him to Compensation Work Therapy (CWT) at the Veterans Administration (VA) Medical Center, where he got the help he needed.
At 69 years old, Donald's ultimate goal was to find a job. Referred by CWT, Donald found work at Bayaud Enterprises, one of more than 700 nonprofit agencies within the SourceAmerica® network that employ more than 80,000 people with disabilities nationwide. Bayaud was able to place him on a VA patient transport contract through the AbilityOne® Program, one of the largest sources of employment for people with disabilities in the United States.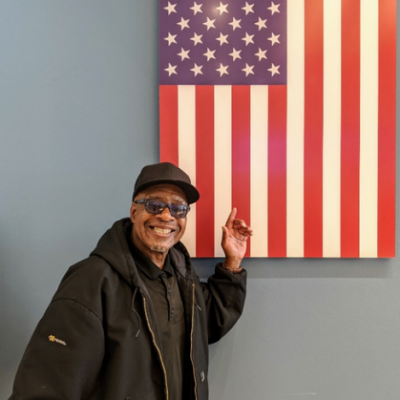 Donald, whose nickname at work is "Mr. Personality," transports veterans and their family members via golf cart on the VA Medical Center campus. His day is spent driving patients to and from their vehicles in the parking structures, transporting others from the bus stop to the main entrances, or offering a ride from one end of the campus to the other for appointments. As a veteran himself, Donald takes this job to heart and goes the extra mile. His smile is infectious, and his story encourages everyone that steps foot in his cart.
Donald's favorite part of the job is making a difference in the lives of veterans who may be upset that they are required to attend certain meetings at the hospital. From his own experience, Donald knows exactly what that felt like. He often shares his experience about attending these types of meetings and how his dedication to making every single one of them led to his road to employment. His story has inspired many veterans. Donald has even received letters from their family members expressing gratitude for his ability to show compassion and understanding.
Donald's day start 6:00 a.m. with coffee and listening to his favorite radio show, Soul Time. He then heads to the front office to answer questions about his current health status, satisfying COVID-19 precautions and requirements. After clearing protocol, he clocks in at 7:10 a.m., grabs some hand warmers, walks out to the dock, and disinfects his cart. Then he begins his rounds. At noon, Donald takes lunch and pays close attention to the clock before returning to his golf cart. His rounds continue throughout the afternoon. At the end of the day, Donald takes the cart back into the garage and plugs it in for charging. His motto ties back to his days in the Air Force, "Learn your job, keep your hair cut, keep your shoes on, and keep your shirt clean and pressed."
His employer has recognized that Donald's dedication goes above and beyond his day-to-day activities. "Donald never ceases to impress those around him and leaves a positive impression on those he serves," said Brian Messerschmidt, Donald's supervisor. "He's helped locate patients' vehicles for them, helped a veteran gain entry when locked out of their car, returned lost items to patients, played a large supporting role in COVID-19 testing, made patients feel at ease, comforted and taken care of, and has even helped save the lives of patients found to be in distress."
In 2019, Donald received numerous awards, including the "Rocky Mountain Hotshot" and the VA Bravo Award from the Chief Nurse of Emergency Department at the VA Medical Center. Donald received the Bravo Award for his role in helping to save not one, but two individuals - both on the same day!
Donald had brought a friend to work and while they were walking to the office, his friend suddenly passed out. Immediately, Donald rushed to the system box and called for help. Later that day after visiting his friend, Donald left the emergency room and noticed there was a man outside turning blue. Once again, Donald jumped into action by calling for help through the service box. While Donald believes anybody would have done the same in these circumstances, he was praised by the Chief Nurse and many other members of the emergency department staff for his quick thinking and willingness to help.
Donald's dedication to his job and the people around him has helped him prosper and accomplish what he once thought was unachievable. He is an inspiration to everyone he meets.
To learn more about SourceAmerica, our network of nonprofit agencies, and individuals like Donald, please email customerservice@sourceamerica.org
---
Enjoy this? You might like these stories, too: