Breaking down barriers: Ben Racine.
By Tatiana Peralta
•
02/08/2021


When Ben Racine was ready to enter the workforce, many organizations failed to see past his disability and turned him away. After a few "no's," Ben applied for a position with Pueblo Diversified Industries (PDI), one of the approximately 700 nonprofit agencies within the SourceAmerica® network that employs people with disabilities. Within a few conversations, PDI recognized the talent that Ben could bring to its AbilityOne® contracts and brought him on board.
In the last five years, Ben has worked diligently to grow his skills and provide value to PDI and the federal government. Ben works part-time on two different AbilityOne contracts, assembling sewing kits for the Defense Logistics Agency and key tags for the General Services Administration.
His talents and abilities have truly flourished since he started at PDI, and he has quickly become a valuable and important team member. Ben is a go-getter, always willing to learn new skills and adapt to any challenge that comes his way. He consistently shows up to work early, ready and eager to begin his day's work. Throughout each shift, Ben tries to outdo his performance from the day before, exceeding his own expectations and inspiring those around him with his dedication.
"The AbilityOne Program and PDI have impacted my life by letting me meet new people and learn new perspectives," said Racine. "They have taught me new work skills and how to be more vigilant with my skills. Earning my own money and having this job has made me successful."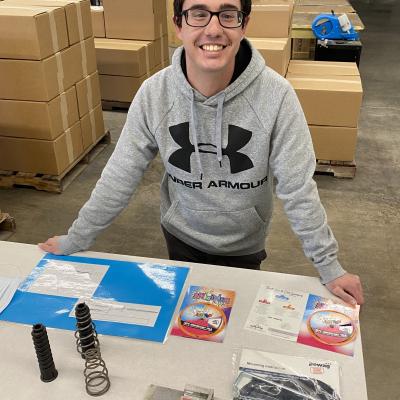 Ben values PDI's ability to support him both professionally and personally. The organization is always challenging him, pushing him to go the extra mile and step outside of his comfort zone. If Ben is struggling with a task, PDI staff is readily available to assist. Within the last year, PDI has encouraged Ben to get his GED. The organization gives him time on the job to complete his GED requirements and provide him with practice books to help ensure success.
"In the last five years, Ben has grown in confidence. He has developed a lot of different skills both professionally and personally," said David Pump, PDI's President and CEO.
Even when Ben faces a setback, it doesn't stop him. When he tried to get a second job at another organization, they turned him away because he couldn't work a cash register. PDI then gave him the opportunity to work at their café, where he learned and mastered how to use the equipment. The organization goes above and beyond to see that Ben is ready for any future employment opportunity he wants to pursue, including working part-time at Tankmatez, where he supports product development.
Ben continues to grow his toolbox of skills with the support of PDI through the AbilityOne Program, one of the largest sources of employment for people who are blind or have significant disabilities in the United States. His time at PDI has allowed Ben to develop a diverse set of skills that has given him the opportunity to work within competitive integrated employment settings and advance his career.
To learn more about employing people with disabilities at your organization, please contact customerservice@sourceamerica.org.
---
Enjoy this? You might like these stories, too: