Adapting to Increased Customer Demand and Safety Measures During the COVID-19 Pandemic
By Shawn Wolfgram, Regional Director, Goodwill Commercial Services
•
10/08/2020


The COVID-19 pandemic has presented challenges to staffing, inventory, cleaning procedures, and processes - as well as safety like no other time in recent history. With a janitorial services program that dates back to the mid-1980s, Goodwill Commercial Services (GWCS) has long understood the importance and value of the custodial workers who ensure our public spaces are clean and safe. The pandemic has further highlighted the dedication of these essential workers.
GWCS currently employs 119 janitorial staff through our AbilityOne contracts, with 85% of the direct labor being provided by individuals with disabilities.
GWCS puts the safety of our employees and customers first, which is why we instituted social distancing in the workplace and increased the use of personal protective equipment (PPE) even before customers required it. Through frequent monitoring of the Centers for Disease Control and Prevention's (CDC) COVID-19 guidelines, we quickly adapted to the rapidly changing environment and implemented additional safety measures, including:
Required handwashing for staff at the start of each shift, before and after breaks and prior to leaving for the day;
Required wipe-down of all staff cell phones prior to beginning their shift;
Staggered shifts and break times to ensure fewer people are congregating in one area at any given time;
Daily temperature and wellness checks before the beginning of a shift;
Markers on the floor near time clocks and other high traffic areas to facilitate social distancing.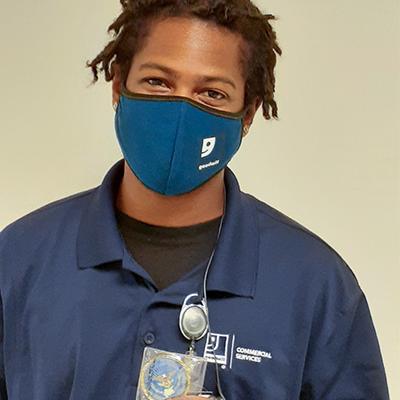 "These essential workers continue to do their jobs, despite the potential risk, and it is our responsibility to ensure our environment is as safe as possible," said Jim Humphrey, vice president of Goodwill Commercial Services.
In addition to increased safety measures, customers requested more frequent and thorough disinfection at their sites, which helped foster the creation of new jobs and processes to adapt to this increased demand, including:
Diverting janitorial staff from their regular duties to increase the cleaning and disinfecting of high traffic areas, which was made possible with tenant agencies teleworking;
Retraining staff on the disinfection chemicals, including the dwell/kill times and the safety data sheet of each chemical;
Placing at least one staff leader at each location who is certified by either the Global Biorisk Advisory Council (GBAC) for its Online Fundamentals Training, with an emphasis on SARS-CoV-2/COVID-19, by the Institute of Inspection, Cleaning and Restoration Certification for its Trauma and Crime Scene Technician Training;
Creating a new line of business to address the needs of customers who request cleaning and disinfection after a positive COVID-19 case is identified;
Applying for and obtaining International Sanitary Supply Association CIMS certification — expected in late 2020.
The onset of COVID-19 created some additional challenges for our organization. As the demand for increased cleaning and disinfection occurred, the need for PPE and cleaning supplies skyrocketed, requiring us to shift quickly to find new suppliers. We moved to a centralized inventory tracking system that allowed us to distribute products efficiently as needed, offering our customers peace of mind that we would be able to keep up with their increased demand for services.
This increased need for labor placed pressure on our already stretched workforce, which resulted in the investment of automated tools to help our employees do their jobs more efficiently, including automated vacuums, which allow our staff to maintain social distancing and focus on disinfecting high-traffic touchpoints, and electrostatic sprayers, which allow us to cover more area in less time.
"The Commercial Services leadership acted swiftly and decisively when faced with unprecedented challenges, resulting in greater efficiencies and a stronger operation, capable of meeting the increased demand created by COVID-19," Humphrey said.
Visit our website to learn more about the janitorial services offered by Goodwill Commercial Services.
As part of our NDEAM celebration, the nonprofit agency (NPA) community has taken over the SourceAmerica blog for the month of October! They may write about how this year has impacted their workforce, how they are celebrating NDEAM, and/or what the future looks like for professionals with disabilities. A special thank you to all of the NPAs who are taking part in this blog series.
---
Enjoy this? You might like these stories, too: