Strategic Plan
Call to Action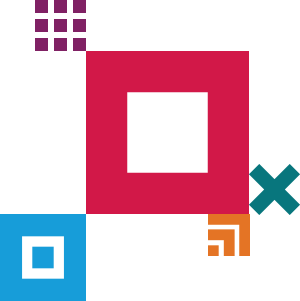 Not enough people with disabilities experience the sense of personal independence and satisfaction that comes with employment. And yet, through the federal procurement system alone, there are substantial opportunities to secure more contracts that enable nonprofit agencies (NPAs) to employ significantly more people with disabilities.
As a Central Nonprofit Agency, SourceAmerica® stands uniquely positioned to help the federal government and its network of NPAs achieve the full potential of the AbilityOne® Program. Together, we have the opportunity – and the obligation – to transform the lives and communities of millions of Americans with disabilities. Our mission and work to support the U.S. AbilityOne Commission® and the network of NPAs could therefore not be more urgent or important.
Mission
Increase the employment of people with disabilities by building strong partnerships with the federal government and engaging a national network of nonprofit agencies and experts.
Vision
Every American with a disability has career path and employment choices.
Values
Integrity: Adhere to the highest ethical standards.
Accountability: Honor commitments to each other, our customers, and the people we serve.
Passion: Demonstrate intense and unwavering dedication to our mission.
Inclusion: Value people for their differing abilities, backgrounds, cultures, experiences, and perspectives.
Collaboration: Work together and with others to innovate, adapt, and achieve our collective goals.
Organizational Goals
The ultimate aspiration/measure for SourceAmerica's success is its impact on people with disabilities and the power of employment in their lives. As an intermediary, SourceAmerica activates employment indirectly, through a network of nonprofit agencies who directly employ people with disabilities. We therefore calibrate our organizational goals in terms of the areas over which we have direct influence: our partnership with the U.S. AbilityOne Commission, the NPA network, and the federal government.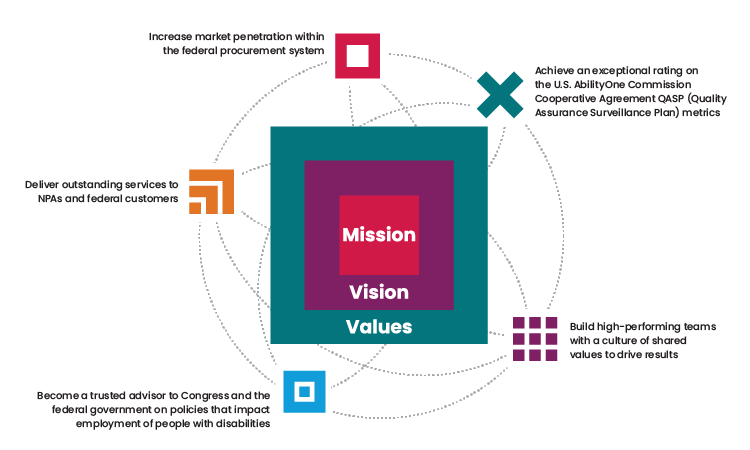 Impact Model
SourceAmerica will achieve impact by maximizing opportunities within the federal procurement system to employ significantly more people with disabilities; by fully leveraging the network of NPAs and National Nonprofit Agencies (NNAs) to create jobs; and by restoring trust among all constituencies through demonstrations of expertise, transparency, and consistent quality execution.
 
Goals & Strategies
Goal #1: Increase market penetration within the federal procurement system
Proposed Strategies
Focus on helping the 24 CFO Act Agencies and their AbilityOne Representatives (ABORs) achieve 100% of their AbilityOne goal.
Support the expansion of NPA Network capabilities as needed to achieve ABOR goals.
Develop innovative solutions with the U.S. AbilityOne Commission to expand federal opportunities for AbilityOne NPAs to secure and deliver federal contracts that employ people with disabilities.
Goal #2: Deliver outstanding services to NPAs and federal customers
Proposed Strategies
Ensure effective oversight of delivery of services and products to federal customers by proactive engagement with all parties.
Institute a holistic Voice of the Customer (VOC) research and stakeholder feedback discipline to drive continuous improvement.
Build SourceAmerica capacity for delivering technical/consulting/workforce development expertise and support to NPAs and customers to increase good and optimal jobs in the AbilityOne Program.
Align training offerings with Cooperative Agreement requirements, anticipated regulatory and legislative changes, and needs expressed by NPA network and persons with disabilities.
Goal #3: Achieve an exceptional rating on the U.S. AbilityOne Commission Cooperative Agreement QASP (Quality Assurance Surveillance Plan) metrics
Proposed Strategies
Strengthen the relationship with the U.S. AbilityOne Commission - demonstrated by ongoing credible performance.
Apply project management principles to the oversight of the Cooperative Agreement, to include gap analysis and risk assessment.
Provide communication/training on Cooperative Agreement obligations among staff and NPA community.
Position ourselves to partner with the Commission to negotiate effective modifications to the agreement.
Goal #4: Become a trusted advisor to Congress and the federal government on policies that impact employment of people with disabilities
Proposed Strategies
Engage Congress to support the growth of AbilityOne as a vital employment program.
Demonstrate the value of SourceAmerica and the AbilityOne Program as a source of good and optimal employment and a source of policy expertise for employing people with disabilities through targeted strategies including public relations and marketing.
Develop methods, in collaboration with our NPA and NNA partners, to identify current and emerging disability employment issues, monitor their evolution, and create strategies for our shared responses.
Establish and maintain a shared policy agenda with the SourceAmerica Board, NPAs, and NNAs to include a shared direction for the modernization of the JWOD Act.
Goal #5: Build high-performing teams with a culture of shared values to drive results
Proposed Strategies
Adjust talent hiring strategy and practices along with staff development programs to align with strategic and operational needs of the organization.
Implement and manage high-performance accountability programs that align with a rewards and recognition program to encourage a culture that is committed to high performance.
Conduct a third-party review of board governance and practices and implement recommendations.
Establish an ongoing program to educate and train stakeholders (staff, NNAs, NPAs, the Commission, customers, and the Board) on key operating principles with regard to the Cooperative Agreement, ISO 9001:2015, and SourceAmerica strategies (Goals 1-4).
 
Next Steps
SourceAmerica teams will continue to implement strategies outlined in this plan in support of our organizational goals. Results will be monitored on the executive dashboard with a focus on continuous improvement. Stakeholders will be kept apprised of our progress, and we will regularly evaluate our strategies and tactics to ensure they remain aligned to organizational goal achievement.