Employment Inclusion Survey
SourceAmerica®, an AbilityOne® authorized enterprise committed to increasing employment opportunities for people with disabilities, conducted a national survey to directly compare how American employees with and without disabilities view diversity, equity, inclusion and accessibility (DEIA) efforts, workplace inclusion and barriers, and accessibility to employment opportunities.
The poll found that 9 in 10 respondents overall said it was important for their employers to value diversity and inclusion, specifically including individuals with disabilities.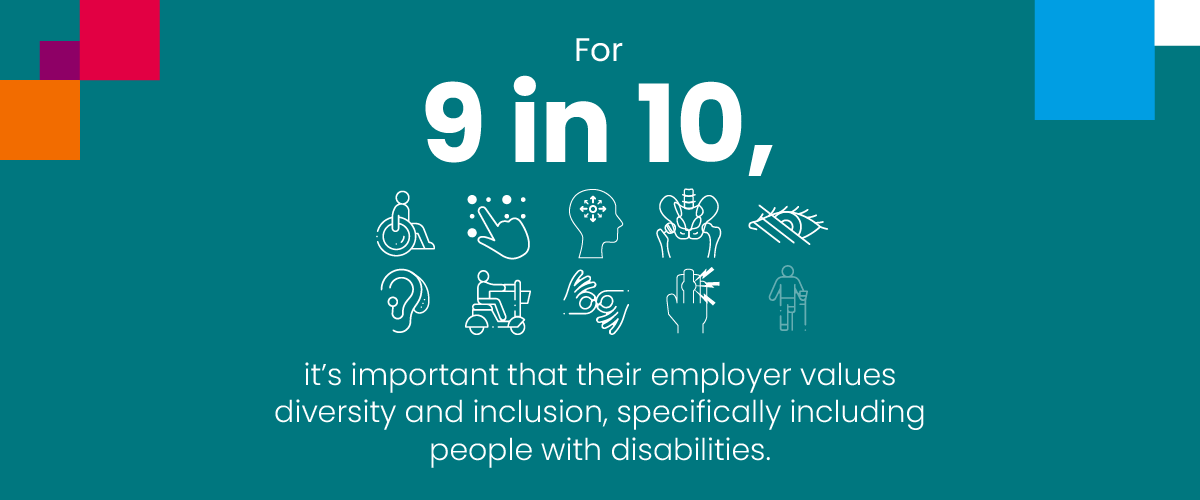 Importantly, 93% of respondents desire the private sector and government to take a more active role in supporting employment opportunities for people with disabilities.
"The survey results strengthen our resolve to help create access to jobs for people with disabilities. Our goal is to create a level playing field where anyone with a disability who wants to work has the opportunity to do so," said Richard Belden, president and CEO of SourceAmerica. "We want to encourage public and private sector employers to join us in connecting people with disabilities to competitive jobs with good wages and advancement potential to build careers."
Disability and Career Trajectory
Highlighting the challenges Americans with disabilities face in the workplace, 57% of Americans with disabilities believe that their disability has limited their career opportunities.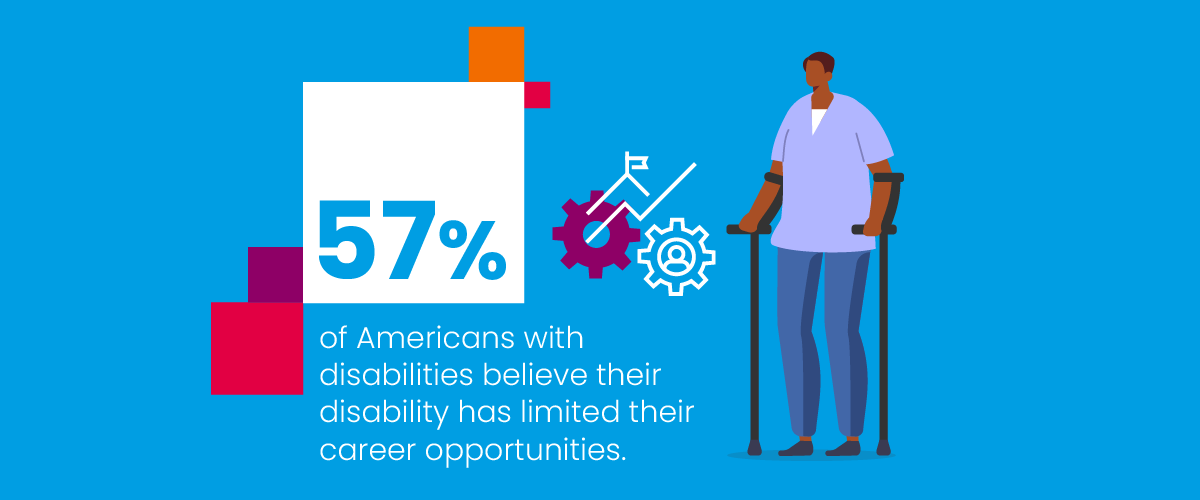 Forty-three percent of all respondents believed that people with disabilities are not given equal opportunities for employment and advancement in the workplace.
A majority (59%) of those with disabilities said they've left their job due to discriminatory acts, while only 26% of people without disabilities have made the same decision based on discrimination.
Two-thirds (68%) with disabilities said they've witnessed discrimination against someone with a disability in their workplace; twice as many (32%) as respondents without disabilities.
Fifty-eight percent of those with disabilities said they experienced workplace-related discrimination as early as during the job interview, compared to only 26% of Americans without disabilities.
DEIA Initiatives in the Workplace
The survey findings also revealed a lack of awareness about Diversity, Equity, Inclusion, and Accessibility (DEIA) initiatives, with six in 10 respondents indicating that they have not heard of DEIA.
Nearly half of respondents (48%) knew that the A in DEIA stood for Accessibility.
Of those familiar with DEIA initiatives, 58% believed that their employer is not doing enough to promote diversity and inclusivity. Seven in 10 believed more emphasis should be placed on people with disabilities in workplace DEIA initiatives.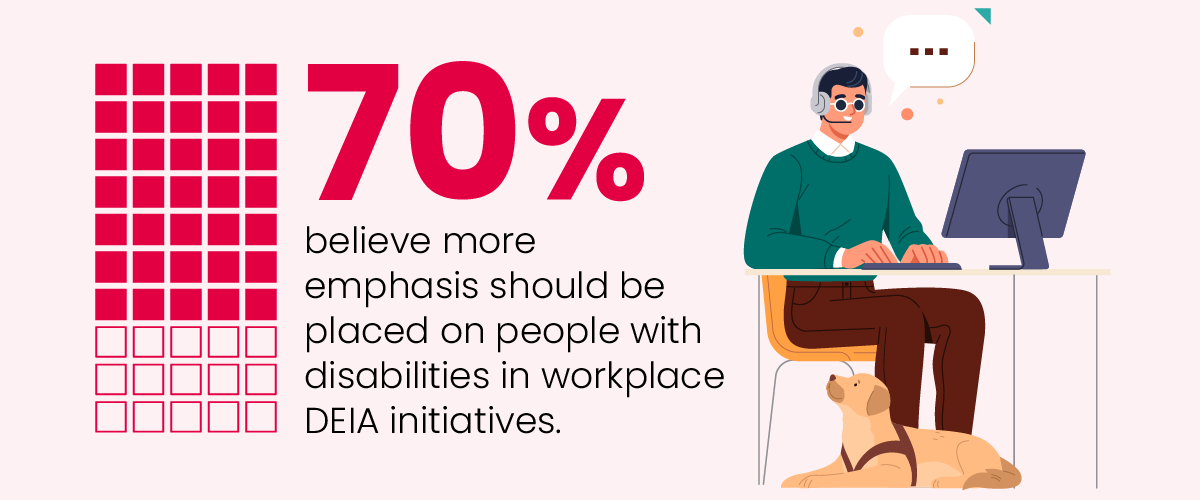 Additionally, 67% viewed DEIA initiatives as essential for helping individuals facing barriers to employment, which includes people with disabilities.
Role of Government and Private Sector
Almost all respondents (93%) agreed that the government and private/public sectors should actively support employment opportunities for individuals with disabilities.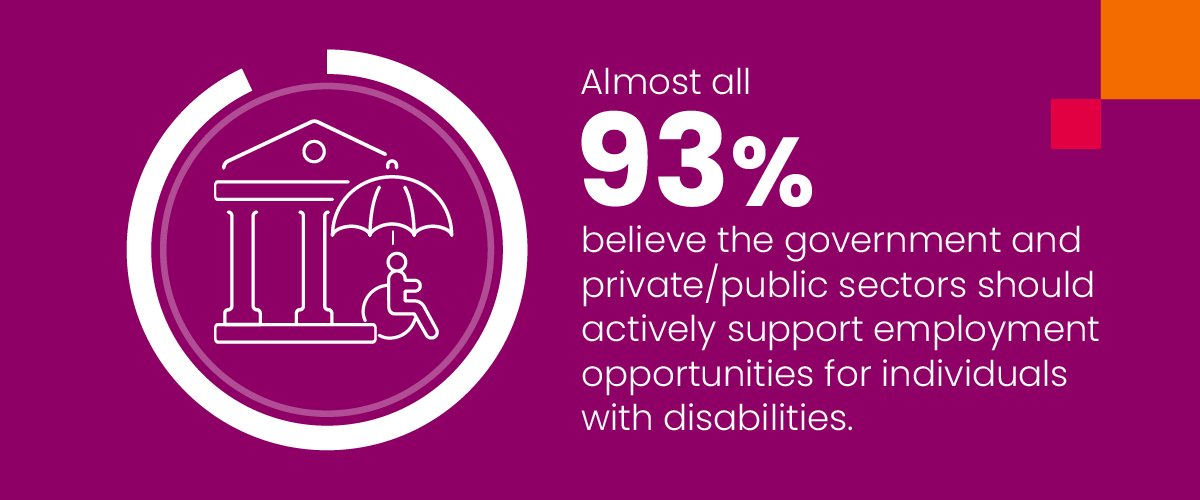 More than a third (37%) would like to see the government help employers set targets, quotas or goals for disability representation within their workforce.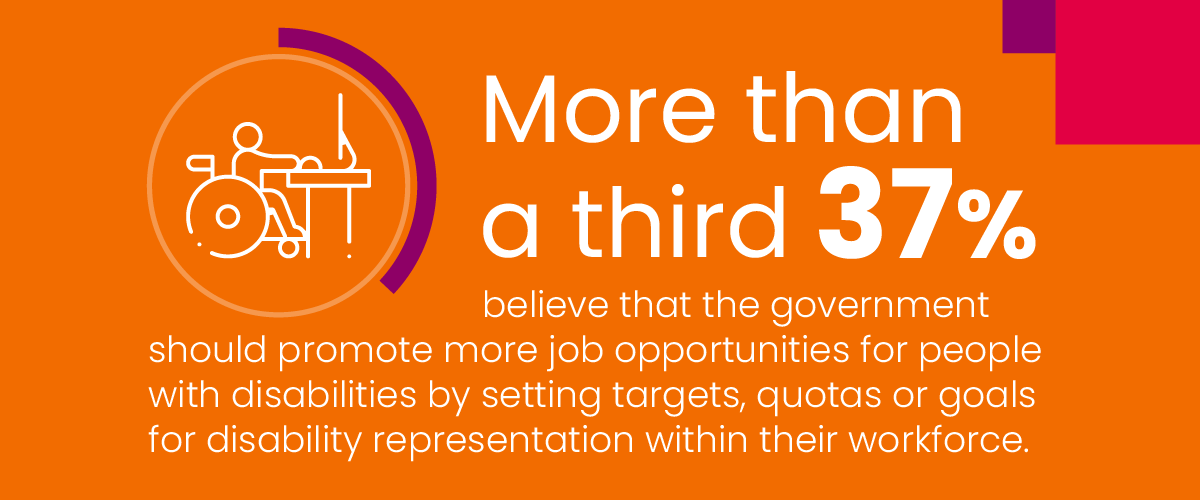 "With this finding in mind, we continue to voice our support and educate lawmakers on the Congressional efforts to establish a 1% federal contracting goal for the AbilityOne Program," added Belden. "Through this survey, American employees with and without disabilities across the country have made their voices heard and the results prove their desire for immediate action by lawmakers to provide more opportunities for employment for the disability community."
Actions employers can take to promote inclusivity for individuals with disabilities
Create flexible work arrangements and job modifications - 45%
Provide reasonable accommodations - 39%
Educate employees about disability inclusion and sensitivity training - 39%
Ensure equal access to training and development opportunities - 36%
Increase representation of individuals with disabilities in leadership - 32%
Foster a supportive and inclusive work culture - 29%
Implement inclusive hiring practices - 25%
DEIA initiatives people with disabilities most frequently take part in or benefit from
Flexible work arrangements – 24%
Employee resource groups – 22%
Diversity recruitment – 21%
Accessibility initiatives – 20%
Inclusive policies and practices – 19%
Diversity training – 19%
Mentoring and sponsorship – 14%
Measures government can take to promote employment opportunities for people with disabilities
Ensuring that workplaces are equipped with the necessary accommodations - 57%
Conducting disability awareness training for hiring managers and employees - 49%
Collaborating with disability-focused organizations - 40%
Setting targets, quotas, or goals for disability representation within their workforce - 37%
Sharing success stories of individuals with disabilities - 34%
Discriminative acts people with disabilities have faced in a workplace
Negative attitudes impacting work relationships - 38%
Inappropriate comments or jokes about my disability - 37%
Assigned lower-quality tasks due to my disability - 35%
Unequal growth or advancement opportunities - 33%
Withheld information or resources - 30%
Exclusion or isolation from work activities - 29%
Ignored contributions based on my disability - 27%
Survey methodology:
This random double-opt-in survey of 1,000 employed Americans and 1,000 employed Americans with disabilities was commissioned by SourceAmerica and fielded between July 14 and July 21, 2023. It was conducted by market research company OnePoll, whose team members are members of the Market Research Society and have corporate membership to the American Association for Public Opinion Research (AAPOR) and the European Society for Opinion and Marketing Research (ESOMAR).