Delivering the mail and connecting Americans during COVID-19
By Tatiana Peralta
•
06/17/2020

At a time when we are looking to stay connected, people with disabilities employed through SourceAmerica network nonprofit agency MDI are helping make that happen.
While janitorial, custodial and laundry contracts have remained essential – so has work with the U.S. Postal Service (USPS). While most of us were tasked with staying home, mail delivery became even more of a priority. Despite the circumstances surrounding the COVID-19 pandemic, mail continues to be packaged and delivered nationwide. This is only possible due to the hard work and dedication of USPS staff, and the support they receive from people with disabilities through the assembly of the plastic totes and trays they need to do their jobs.
MDI, headquartered in Minneapolis, successfully employs and trains 362 people with and without disabilities in four locations. These staff members provide essential services to the federal government and commercial clients, many of which have continued to operate during this time.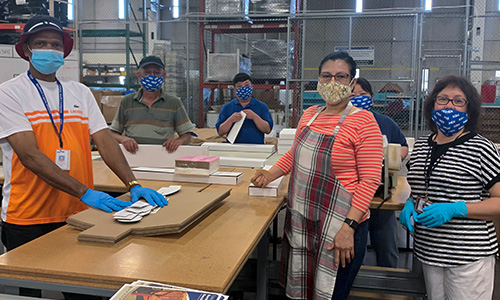 Since 1993, people with disabilities employed through the U.S. AbilityOne® Program at MDI have produced the clear trays that move mail from the distribution center to its delivery location. For 27 years, these individuals have been committed to providing the best quality products for a critical U.S. agency that all Americans rely on.
Like many other nonprofit agencies within our network, MDI has had to adapt to the circumstances in order to provide the best possible safety standards. Leadership at MDI constantly communicated with staff during the heart of the crisis and continuously evaluated their volume of production to ensure people could keep working on this contract.
"While we've always prioritized health and safety, COVID-19 has driven us to think creatively on the topic," said Peter McDermott, president and CEO of MDI. "We've restricted visitors, provided face masks and implemented several other new practices to protect employees and customers and to ensure supply chain reliability during the pandemic."
People with disabilities bring unique talents and insights to the workplace. MDI is focused on creating an inclusive environment that supports them by focusing on their abilities and providing accommodations and training.
"I like MDI because it is a great place," said Edily Hidalgo, MDI employee. "Everyone is really nice. The supervisors help and are nice."
To learn more about opportunities with the SourceAmerica network, please contact customerservice@sourceamerica.org. 
---
Enjoy this? You might like these stories, too: