SourceAmerica Announces High School and College Winners of National Engineering Competition Supporting People with Disabilities at Work
By SourceAmerica
•
04/10/2017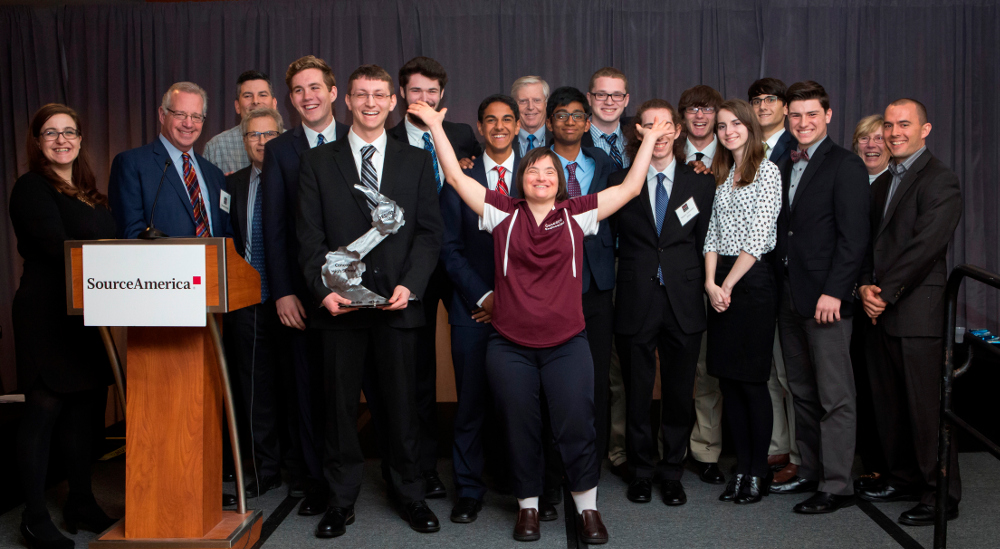 Vienna, Va. — Despite businesses across America proudly championing the "inclusion" buzzword, nearly 80 percent of people with disabilities remain left out of the workforce. Fortunately, this fact is not lost on tech-savvy students from Concord High School in Wilmington, Delaware, and California State University, Los Angeles. They won the high school and college divisions of the 2017 SourceAmerica Design Challenge, a unique engineering competition where students create assistive technology to enhance workplace success and employment options for people with disabilities. Competing against of 160 teams from 26 states, these winners demonstrated, above all, the human impact and business benefits of their devices.
SourceAmerica, a national nonprofit agency with a mission to create employment opportunities for people with disabilities, hosts the Design Challenge annually to bring greater awareness of the need and the impact of assistive technology in the workplace.
Concord High School's interactive device, the Weigh Master, was a computerized scale that provided visual and color-coded cues to help employees with disabilities weigh dog treats with greater ease and efficiency in their roles at Waggies by Maggie and Friends in Wilmington, Delaware.
California State University Los Angeles's Lean Master reformatted the fabrication process of a two-hole puncher for FVO Solutions, a SourceAmerica network member nonprofit agency in Pasadena, California. Using LEAN engineering techniques, production cycle time was reduced by 50 percent and physical discomfort for employees was eliminated.
During the six-month competition, students worked closely with employees with disabilities in their communities. Their goal: to understand the challenges they face and design breakthrough assistive technology that supports greater employment success. Five high school and three college finalist teams traveled to Washington, D.C., for the Design Challenge championship on April 7, and demonstrated how their groundbreaking engineering devices and innovative designs benefited both employees with disabilities and their employers' bottom line. The teams were recognized in an awards ceremony.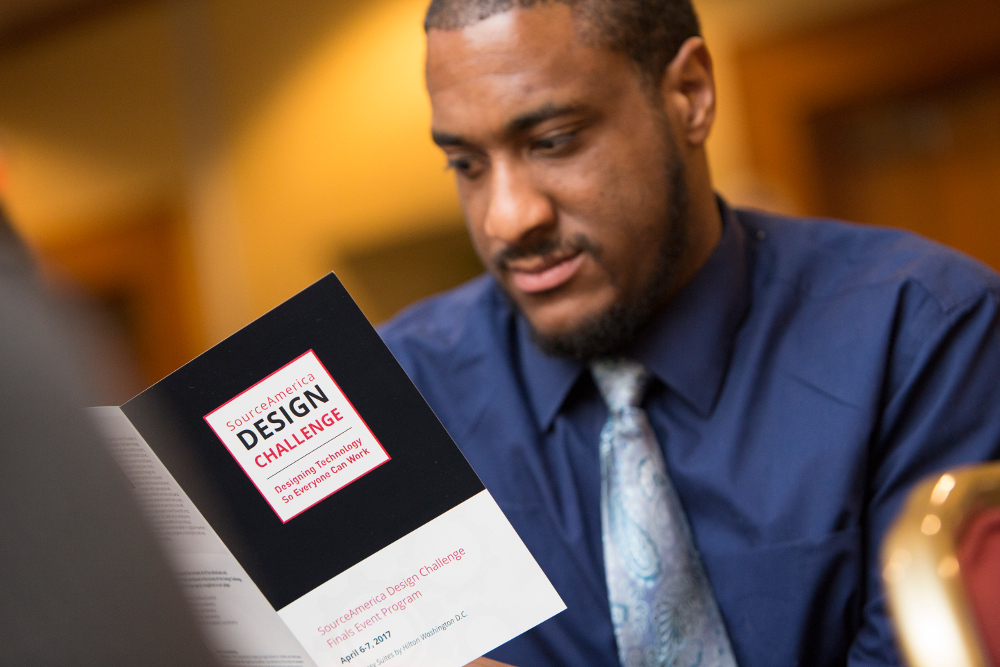 This year's winners also included:
High School Division:
2nd Place: Copley High School – Team #1617 (Copley, Ohio)
Organization served: Weaver Industries ProPak, a SourceAmerica network member nonprofit agency (Akron, Ohio)
Project: The Delta Snap broadened the number of employees with disabilities that could assemble grinder caps from 25 percent to 100 percent.
3rd Place: Copley High School – Team #1616 (Copley, Ohio)
Organization served: Weaver SecurShred, a SourceAmerica network member nonprofit agency (Akron, Ohio)
Project: The TRIPS device increased the efficiency and production of employees with disabilities who completed paper shredding. Shredding time for one roll of paper decreased from 5 minutes to 12 seconds, and total production increased by 750 percent.
4th Place: Olathe East High School (Olathe, Kansas)
Organization served: Shawnee Mission Northwest High School (Shawnee, Kansas)
Project: The B.O.S. (Best Overall Solution) is a portable wheelchair desk and cart designed for a high school teacher with multiple sclerosis. The cart's capabilities enable the teacher to now travel independently, without help, while storing heavy books and materials.
5th Place: Wethersfield High School (Wethersfield, Connecticut)
Organization served: CW Resources, a SourceAmerica network member nonprofit agency (New Britain, Connecticut)
Project: Flag 2.0 is a motorized device that helped an employee with disabilities properly label envelopes. A laser light built into the device determines label positioning and a user-controlled button advances the roll to the next label when pressed.
College Division:
2nd Place: Ohio University (Athens, Ohio)
Organization served: SW Resources, a SourceAmerica network member nonprofit agency (Parkersburg, West Virginia)
Project: Say Yes to the Press is a simple, user-friendly hand press that expanded the number of employees who could complete the task.
3rd Place: Lawrence Technological University (Southfield, Michigan)
Organization served: Services to Enhance Potential, a SourceAmerica network member nonprofit agency (Livonia, Michigan)
Project: The Spray Bottle Assembly Device features a hand press that reduced physical discomfort of employees with disabilities assembling spray bottles. For employees with dexterity issues, the new device enabled them to complete the process with a single hand.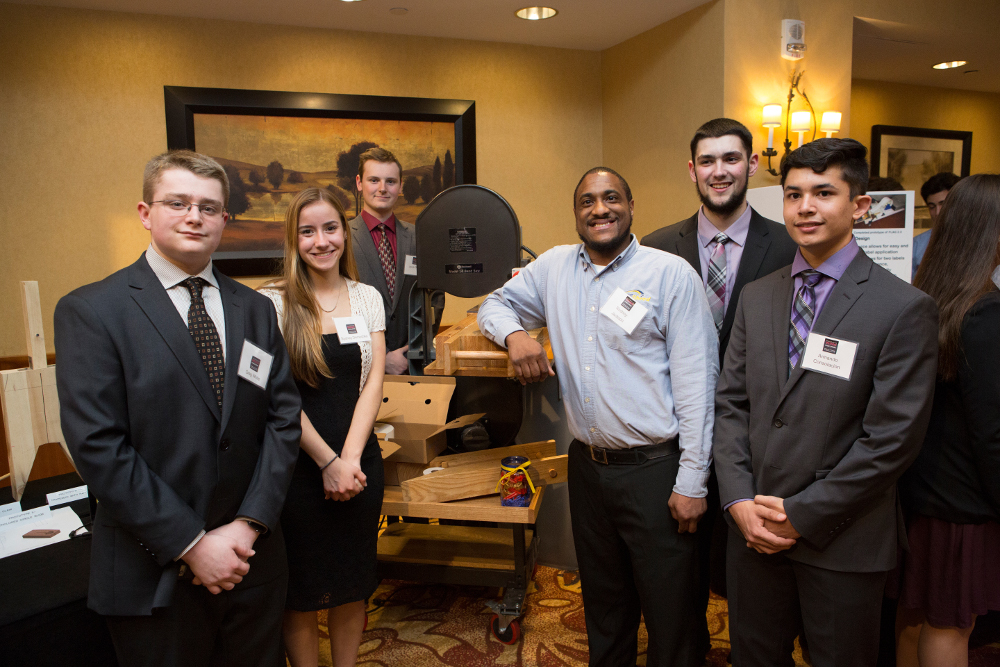 According to SourceAmerica Design Challenge Program Manager Charissa Garcia, the benefits of competing for students can be far-reaching. Past competitors have shared their competition experience in job interviews and on college applications; others have even patented their innovations, Garcia said.
The social responsibility aspect is one of the most important lessons of the Design Challenge, according to Garcia.
"Our hope at SourceAmerica is that through the Design Challenge, employers will see how impactful assistive technology can be for their employees with disabilities and businesses," Garcia said. "We also hope that as students grow in their careers and they encounter a person with a disability, they'll be more open to giving them an opportunity."