SourceAmerica's Veteran Employee Resource Group's virtual volunteering mission
By Perry Luksin
•
09/24/2021


Even in the age of hi-tech communication, you can never underestimate the power of homemade chocolate chip cookies or a handwritten note to brighten someone's day— especially for a military service member who's deployed. SourceAmerica employees who participate in the company's Veteran Employee Resource Group (VERG) understand this. Many have firsthand experience with either being deployed or knowing someone who's deployed.
Since launching in 2020, the VERG was established to champion military veteran culture. In addition to researching ways to connect with military service members and spearheading a peer-to-peer mentoring program within SourceAmerica, the group has found other opportunities to stay active during the COVID-19 pandemic. Last March, the group brainstormed ways they could volunteer their support virtually to the broader military community. Ty Harris, an Account Manager on SourceAmerica's Account Services team and VERG co-leader, found a perfect fit with Soldiers' Angels, a nonprofit organization that brings "aid, comfort and resources to the military, veterans and their families."
"Volunteering with Soldiers' Angels has given VERG members a unique opportunity to work together and interact on another level, beyond our monthly VERG meetings or in their day-to-day work (and largely virtual) office environment," said Harris. "We all have different tasks, but at the same time, we're all committed to supporting our nation's service members."  
Others in the group have been volunteering their time to different projects coordinated by Soldiers' Angels, including:  
Angels' Bakers 
VERG members have leveraged their baking skills to turn out an impressive number of homemade cookies and other sweets for service members stationed around the world. Soldiers' Angels requires volunteers who contribute to this activity to send one care package of baked goods per month and support at least one service member per month. To date, the VERG has baked 26 boxes of cookies for 26 service members.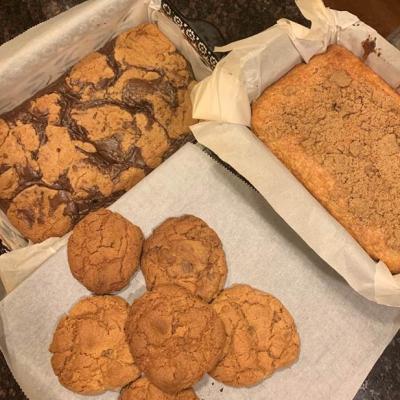 "I grew up in India and unfortunately I did not see serving in the military as a career option. Here in the United States, I see how people appreciate soldiers and their families," said Shamika Kshirsagar, a Senior Solution Architect for Dynamics on SourceAmerica's IT team. "Volunteer opportunities to support veterans and active-duty service members is a testament to the love, respect and gratitude that the civilian population feels towards those in the Armed Forces." 
Kshirsagar added: "I've also had the chance to work with ex-military/Armed Forces officers throughout my career here. They inspired me to appreciate the sacrifices a soldier makes. As a civilian, we get to enjoy all the benefits and freedoms that a democracy like the United States or India provides. These are gifts to us from the soldiers who make sacrifices for us. I would like to say, 'thank you' to them through this initiative." 
Cards Plus 
VERG members are also contributing to Cards Plus, a project where volunteers write and send cards filled with encouraging messages to service members, veterans and their families. Cards are sent for a variety of occasions including birthdays, anniversaries, a new baby, thinking of you/get well and even cards for welcoming service members home. To date, the VERG has sent 43 cards.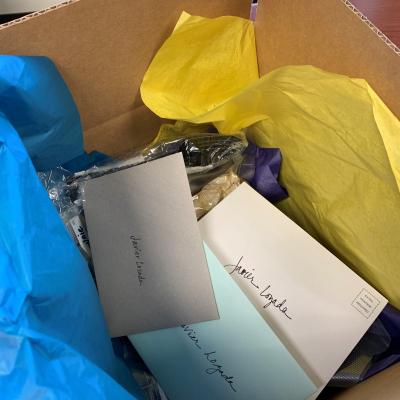 "Participating in Cards Plus for Soldiers' Angels has become a regular family event for my family and me," said Rod Conley, a Senior Business Development Representative on SourceAmerica's Army and Air Force team. "We're honored to show and express our gratitude to the men and women who provide for our freedom by engaging in this simple act of kindness through the VERG. Go USA!" 
Letter Writing  
Recognizing that some service members may receive little to no mail from home while they're deployed, VERG members are writing letters to help boost the spirts of those deployed. To date, the VERG has written multiple letters to nine different service members.
"After having spent approximately a third of my 31 years in the Army deployed, I recognize and appreciate the small things that kept me connected to home and family," said Chuck Guta, Senior Business Development Representative on SourceAmerica's Army and Air Force team. "Being part of Soldiers' Angels is an effective way of giving back to today's guardians of freedom."  
Guta added: "Taking the time to send letters is a small way to ensure our deployed service members know that they are remembered and appreciated for their service away from home. If a letter or box of cookies give a deployed service member a strong message that we back at home truly appreciate their commitment and dedication to protecting our freedom, then I've learned that it's time well spent, and mission accomplished!"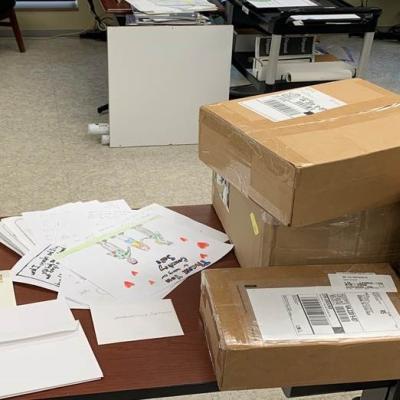 Soldiers' Angels has also gained tremendous support from other non-VERG SourceAmerica employees, including Amanda King, Vice President of Human Resources. King, along with members of her family, have baked impressive quantities of cookies, cakes and brownies that they've vacuumed sealed along with numerous handwritten cards. Additionally, Tanya Deshields, Senior Facilities Supervisor, has generously volunteered her time to lead shipping and receiving efforts for care packages destined for service members.  
Between March 2021 and September 2021, 78 service members have been positively impacted by the VERG's ongoing volunteer activities through Soldier's Angels. The VERG plans to continue these meaningful volunteer activities in the foreseeable future. 
---
Enjoy this? You might like these stories, too: