A sense of pride leads to a fulfilled dream
By Tatiana Peralta
•
07/09/2021


Visiting Washington, D.C. often means strolling through the museums, landmarks, and the National Mall. Behind the scenes, people with disabilities working through the AbilityOne® Program ensure that these heavily trafficked spots are kept pristine for the millions of tourists that visit the area each year.
For over a decade, Harry Brittingham has dedicated his career to ensuring the National Gallery of Art is in its best shape possible. As the lead grounds keeper, he supervises a team of three individuals whose job is to maintain the grounds of the gallery and the building's five floors. Harry credits his longevity at this job to his team and the sense of purpose he feels every day.  
In 2007, Harry started his journey with Goodwill of Greater Washington, one of the nonprofit agencies in the
SourceAmerica® network. After several years working at the warehouse, Harry was promoted to the National Gallery of Art. From the moment he stepped foot on site he knew he would be running point on the ground operation one day. In 2012, Harry's dream came true. He was elevated to the role of lead worker and has committed himself to learning how to be a better manager and mentor to his employees.  
"I love working at the National Gallery of Art," said Harry. "I get to meet people from all over the United States. Even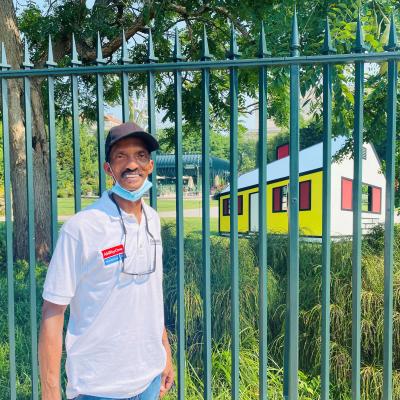 though it's a government site, they treat me like I am one of their own. Most importantly, I like to make sure my co-workers have what they need to be the best they can be, and I enjoy watching their growth." 
Harry takes pride in his work and is filled with a sense of joy when his team is recognized by National Gallery of Art leadership. In 2018, Harry was selected by D.C. Goodwill. to receive the "Best in Service Award" for his dedication.  
If it were not for D.C. Goodwill, Harry is not sure what he would be doing today. D.C. Goodwill gives Harry's team everything they need to succeed. "They always answer the phone, offer trainings, and provide support," he said. "During COVID-19 they even provided my team with all the personal protective equipment needed to do our jobs safely."  
Harry's number one goal is to give back to the organization by focusing on good customer service so the museum will continue to renew the contract with D.C. Goodwill. In fact, the contract has been renewed twice already since Harry took on the lead role.  
"Harry is always doing more than what is asked of him," said Jamarr Henderson, AbilityOne Program Manager
at D.C. Goodwill. "He looks out for others, is very dependable, and really showcases our values. He doesn't just come to do the job but makes sure that every employee has the support they need." 
Harry's story is a great example of the successes that people with disabilities can have in any workplace. Harry's message to the world is to look past a person's disability and give them an opportunity to shine because "we can do anything we set our minds to, and more." 
To learn more about how to employ people with disabilities at your company, please contact customerservice@sourceamerica.org. 
---
Enjoy this? You might like these stories, too: