Providing the essentials during wildfire season
By Tatiana Peralta
•
08/09/2021


Every summer, the United States gears up for peak wildfire season. To prepare, the Forest Service places orders through the Defense Logistics Agency Land and Maritime agency for millions of batteries that help fuel flashlights, helmets, and more. 
People with disabilities employed at ECVC, one of the nonprofit agencies in the SourceAmerica® network, organize, custom label, and manage the shelf-lives on batteries that will be in high demand during the season. While these talented individuals provide this service for various missions year-round, the preparation for wildfire season takes place mainly during the spring and summer months (April to September). These batteries are boxed and shipped to the western states to support firefighters in their battle.   
The ECVC contract started in 1995, making it one of the organization's longest-standing operations. The work is completed through the AbilityOne® Program, one of the largest sources of employment for people who are blind or have significant disabilities. ECVC employs more than 40 people with disabilities through this work. Among those people are Icelene King and Vicki Brown, two employees who take pride in their job and the contributions they make to the country. 
Icelene King 
After 24-years on the job, Icelene has no plans of slowing down. Icelene started with the on-site janitorial team before moving to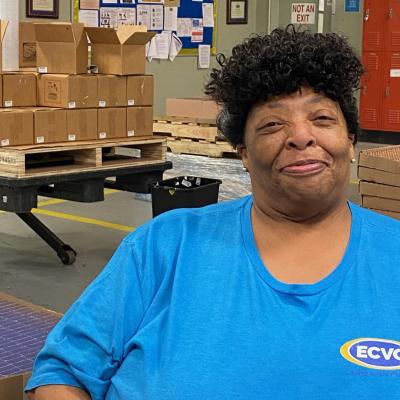 the production department and over the years has demonstrated her expertise in her chosen field of work. "Even though people have disabilities, they just need to be shown they can work," she said. "They can be independent and not depend on other people."  
Because of her tenure, Icelene has experience working in many areas of the battery operation, including organizing the batteries and labeling the packages. Icelene's work ethic and dedication show the skills people with disabilities can bring to any workplace. 
"For 24 years, Icelene has shown up to work to support the company by doing her job well," said Ellen Jackson, ECVC Director of Contract Management & Marketing. "No matter what's going on in her life, she shows up and treats all of her co-workers with respect. She laughs, she smiles, and she sings. There is no packaging task Icelene can't do." 
Miss Vicky Brown 
Vicki Brown, also known as "Miss Vicki," has been with ECVC longer than the organization has had the battery contract. Due to her longevity, Miss Vicki has supported every agency contract in some way. She is a constant source of inspiration for the organization's leadership.  
"Miss Vicki works really hard every day and the accommodations we have made for her disability are very basic and uncostly,"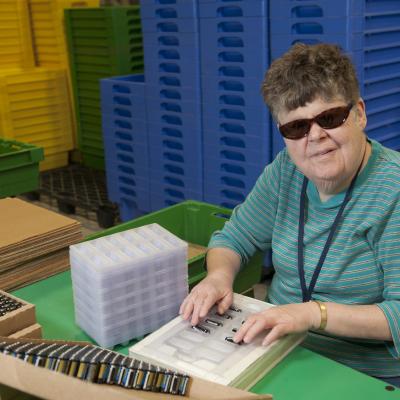 said Christina Bell, ECVC's Program Quality & Compliance Manager. "Because she is blind, we do things a little differently. She has been so fun to work with. She always has a smile on her face and is willing to go the extra mile." 
Having this job for so long has given Miss Vicki the opportunity to be productive and contribute to something bigger than herself. She is able to pay her bills, call cabs, go out to eat when she wants, and live completely independently.  
"I want to work here as long as I can," she said. "Maybe one day I will retire. But even when I am not at work, I miss the work." 
ECVC's leadership is proud of its talented employees and the contributions they make every day. The organization knows that their skilled workforce is part of the important mission the western states' firefighters battle during this critical time. 
To learn more about how your organization can employ people with disabilities, please contact customerservice@sourceamerica.org. 
---
Enjoy this? You might like these stories, too: