Preparing our troops for extreme cold​ weather
By Adina Young
•
12/21/2021


It seems like each year the winter months get colder and longer. We can only imagine what it's like to have to be in those elements for hours and hours on end.
Thanks to the AbilityOne® Program, one of the largest sources of employment for people who are blind or have significant disabilities, our military have access to the warm and protective clothing they need to continue to safeguard our country. Specifically, for over 30 years, nonprofit agencies in the SourceAmerica® network have helped to provide quality military-specific products like chemical protective over garments and cold weather infantry kits.
Let's take a look at a few of the extreme cold weather items that are made by people with disabilities:
Silk-weight Undergarments and Fleece Jackets
Peckham, Inc. and its employees pride themselves on providing expert manufacturing of complex military and tactical protective equipment. An example of this are the silk-weight undergarments and fleece jackets that they make especially for the U.S. military. This is a seven-layer Generation III Extended Cold Weather Clothing System that arms our soldiers with the ability to adapt to varying climate conditions. This versatile clothing has a base layer (top and bottom), the mid-weight pants, and the fleece liner.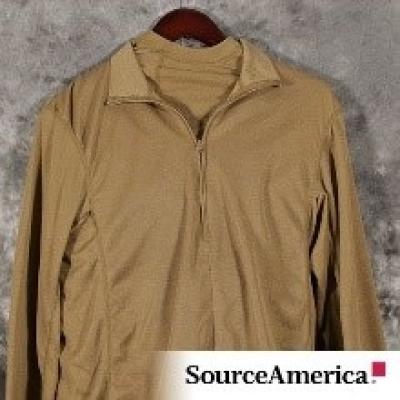 Generation III Midweight Shirt
KCARC specializes in producing light to medium weight clothing, pouches, and gear. The shirt pictured here is a Generation III midweight shirt that provides light insulation for mild environmental elements and can also be repurposed as a base layer in cold climates. This also helps our troops stay dry and warm when it's raining, snowing, or sleeting! The shirt has long-sleeves and thumb holes as well as a mid-chest zipper that provides warmth all the way up to the neck.
Cold Weather Vest, Trouser and Jacket Protective Combat Uniform Level 7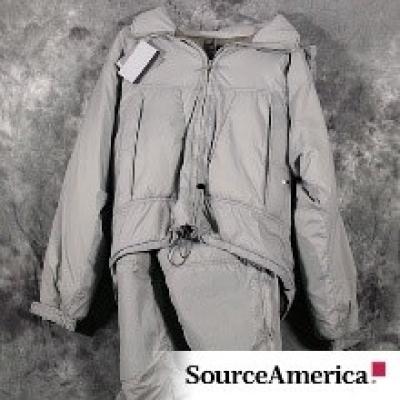 Puerto Rico Industries for the Blind has more than 90 years of experience manufacturing military and commercial apparel. PRIFB
manufactures this Cold Weather Vest, Trouser and Jacket Protective Combat Uniform Level 7. These products are designated by Special Operations Forces Special Projects Team at the U.S. Army to be worn in temperatures ranging from 40 degrees to -50 degrees F to stabilize body temperature. Constructed with an outer shell fabric that has a water-resistant finish and with a bonded high-loft insulation, Level 7 coat, trouser and vest are highly durable and breathable. 
The nonprofits in SourceAmerica's network also manufacture other clothing for our U.S. military including knit wool watch caps, Generation III midweight drawers, and extreme cold weather socks. 
If your organization is in the market for products and services provided by people with disabilities, SourceAmerica can help with that! Contact us here.
---
Enjoy this? You might like these stories, too: