Leveraging disabilities as abilities
By Tatiana Peralta
•
09/07/2021


"I took a test and knew I had a disability…when I tell my story, things just happen for a reason."  
~ Vinnie Brandt. 
Like every person with a disability in the workforce, Vinnie Brandt has a story. The current chapter of his life finds him at the National Institute of Health -- a medical research agency where important discoveries are made that improve health and save lives. As a general maintenance staff member, Vinnie is making contributions that support the organization's success. 
Vinnie is employed by Skookum, a SourceAmerica® network nonprofit agency, to work the night shift at NIH. He monitors a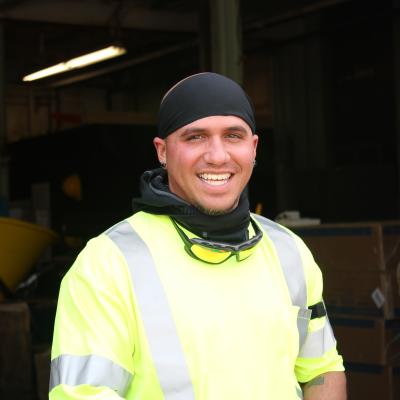 computer that checks for air supply in every room in the building. The NIH facility houses research that is hypersensitive to temperature, which means Vinnie is always intensely focused on any change in the monitor. Vinnie has attention deficit disorder, which enhances his ability to focus on the variety of color changes that the monitor produces. His disability gives him the ability to perform his job correctly and efficiently.   
"NIH is very important to things that are happening right now, like viruses," Vinnie said. "It's cool that I get to really pay attention and do my job well. If the room is too hot or too cold, the research can be destroyed, and it can set them back for years. It's neat, especially right now. It's fulfilling to know that I am helping." 
Prior to working with Skookum, Vinnie had no idea what he wanted to do. Skookum and the AbilityOne® Program, one of the largest sources of employment for people with disabilities, opened doors that he never even knew were there. When Vinnie joined Skookum in 2012, he first worked at Curtis Bay Coast Guard Yard on its ground maintenance contract. During his tenure there, he was promoted multiple times. As a go-getter, Vinnie wanted to continue to grow and develop new skills. The Skookum Human Resources team worked with him to find jobs in and out of the company. "It was great that they didn't just care about me being there, but they cared about finding the right position even if it wasn't within Skookum," Vinnie said. "But of course, I wanted to stay here."  
In just a few short weeks, Skookum placed Vinnie at the NIH jobsite. His job as a general maintenance team member gave him an opportunity to learn more about heating, ventilation, and air conditioning (HVAC) and plumbing. Vinnie quickly fell in love with his job. "I had no idea I even liked this stuff," he said. "But once I was in, I just snowballed. I wanted to learn more and do more with it." 
Vinnie starts his 8-hour shift at 10 p.m., five days a week. Much of his job is spent doing rounds to make sure nothing is leaking, conducting temperature checks, supervising the steam rooms, and then monitoring the computers. If there's a challenge, Vinnie immediately jumps into action and solves it. When the power goes out, he ensures that everything is taken care of so that no research is impacted. "Because we are there, no one would even notice if something did happen," he said. 
Skookum is committed to supporting Vinnie in his professional endeavors. Now that he's found a passion for HVAC systems, he wants to take college courses that will strengthen his skill set. Skookum has been working with him to find programs and classes that would best suit his needs. This support will help him achieve his goal of one day possibly becoming a site manager at Skookum.  
Vinnie doesn't consider his ADD a disability; he sees it as an area of strength. "Where people with disabilities lack in some things,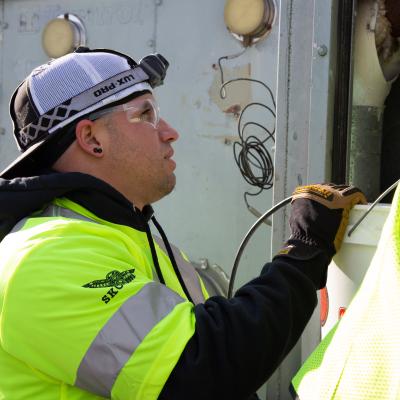 we make up in other stuff," he said. "With what I do all night, ADD helps because I am constantly seeing alarms going off and colors changing. Other people might not see it as quickly, but I can pick it up instantly. When people are looking to hire people with disabilities, they should look at what their strength is and put them in the right position." 
Throughout the years, Vinnie has reached many milestones. From getting his first job at Skookum, to earning promotions, and recently purchasing a home, Vinnie is a shining example of the doors opened through determination.  
"Vinnie has tremendous upward mobility within our organization," said Kelsey Kilen, Skookum's Vice President of Communications. "He has a great work ethic and has had the opportunity to attend the SourceAmerica Grassroots advocacy conference to make an impact. He's truly worked his way up to a position that he loves." 
Vinnie's story is a great example of the abilities that people with disabilities bring to the workforce. When their skills are leveraged, these individuals can contribute to any employer's success. 
To learn more about how you can employ people with disabilities at your organization, please email customerservice@sourceamerica.org. 
---
Enjoy this? You might like these stories, too: