Keeping a local community eco-friendly one recyclable at a time
By Tatiana Peralta
•
06/08/2021


Recycling is an important part of a greener environment. It prevents pollution, reduces the amount of waste that ends up in landfills, and allows products to be used to their fullest extent. People with disabilities employed through Bridges BTC, a nonprofit agency within the SourceAmerica® network, are contributing to an eco-friendlier environment.   
One of those talented individuals is Jason Cartmell, who shows up to work every day with the mission to keep three federal sites clean and sustainable. His role not only supports the local community of Rockledge, Florida, but also the federal government. This work is done through the AbilityOne® Program, one of the largest sources of employment for people who are blind or have significant disabilities. 
On any given day, Cartmell is assigned to either collect or sort recycling material. If he is tasked with collecting,
Cartmell heads to one of three sites: The Space Force Base, Cape Canaveral Space Force Station, or the Kennedy Space Center. He's always thinking ahead and asks himself if enough bins are in the truck, how many buildings the crew has to hit, and whether or not they need to stop for gas.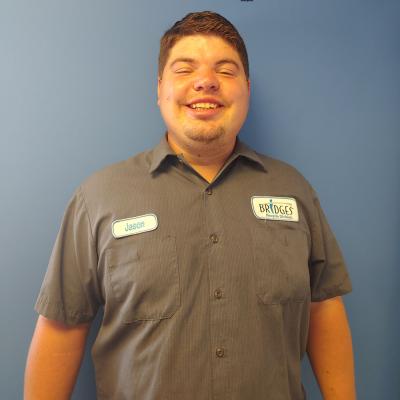 Once on premise, he goes through every room and collects the recycling bins for sorting. Every building has a unique layout. Even after two years of doing the job, Cartmell is in awe that he gets the chance to step foot in these important locations and has the opportunity to witness some unique things. For example, Cartmell removes the recycling from a room at Kennedy Space Center where launches take place and even collects bottles from the launch pad. One of his favorite memories is having the opportunity to watch an actual space shuttle launch.  
Meanwhile, if Cartmell is assigned to sort the recycling, he reports to the Materials Recycling Facility where he separates paper, cardboard, office waste, plastic bottles, and aluminum cans into different bins. That part of the job requires a lot of focus to ensure that every item is placed in the correct designation.  
"This job means my life to me," said Cartmell. "Bridges puts a lot of trust in me to do this. I feel like I have really stepped up to the plate and helped to serve the military and the civilians at the bases." 
For the past two years, Bridges has given Cartmell the support he needs to succeed in every facet of his life. No matter which task Cartmell is assigned, he looks forward to putting a smile on his face and spending time with his co-workers.  
"Bridges and the AbilityOne Program have truly impacted my life. They have gotten me on a straight path," said Cartmell. "When I found Bridges, they helped me get my life skills back in order, and helped me gain new social, personal, and financial knowledge to get by on my own."  
Cartmell speaks with his supervisor about his financial well-being and has been supported by the nonprofit to secure independence. He also has check-ins to discuss his spending and believes he is on the right track for his "three-bucket" strategy to open a spending, savings, and emergency bank account. In the next few months, Cartmell plans to buy his very own Jeep.   
"Bridges' contract with SourceAmerica is a fantastic opportunity to strengthen our mission by employing hard-working adults with special needs," said Keith Gee, President and CEO of Bridges BTC. "This is a true win-win for our agency and the community. We have had so many success stories. These talented individuals love their jobs!" 
Cartmell's future is bright. He is hoping to become a crew leader, get his own apartment, and work on his diet. BRIDGES took a chance on him, opening doors to showcase his skills. Cartmell hopes more businesses give people with disabilities an opportunity like this. 
"Work with someone with a disability so you can see how they operate and what they can do," said Cartmell. "Don't judge us before we start working for you. Once we get it down, we can be hard workers, too." 
---
Enjoy this? You might like these stories, too: