Joining the ranks of a talented team
By Tatiana Peralta
•
09/20/2021


Hundreds of people with disabilities are employed by The DPI Group, a nonprofit agency in Portland, Oregon. Some of these employees work at a division called Fort Rock Tactical, where they assemble combat knives for various branches of the military. Merlin Yellowtail recently joined the ranks of the talented team that supports our nation's heroes through this effort. While Merlin's story is unique, his employment journey follows a similar trajectory of many individuals with disabilities.  
His initial career started in construction. Due to various injuries sustained on the job, Merlin ended up facing barriers to employment because of accommodations that became necessary. Despite those challenges, he worked a variety of jobs prior to landing at The DPI Group, one of the nonprofit agencies in the SourceAmerica® network. 
"Merlin has been here for some time now. When he came in for his interview, he had a big smile and lit up the room," said Andre Barber, Tactical Supply Operations Manager at DPI. "He spoke highly of his family and that all factors into the person he is here. He brings those qualities to work every day." 
Merlin joined DPI's security team about a year ago and quickly realized that the job required a lot of walking and physical labor. To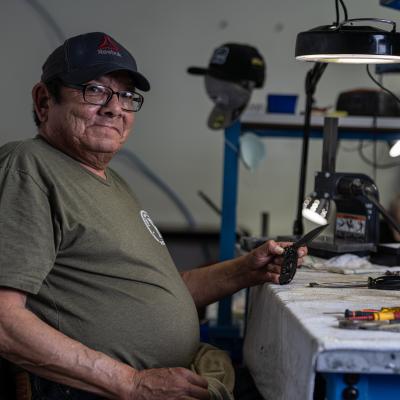 better support Merlin, DPI worked with him to secure a different role within the organization that would require less heavy labor and accommodate his needs. After a few conversations, DPI hired him on to work on an AbilityOne® contract assembling a variety of knives for the U.S. military. The AbilityOne Program is one of the largest sources of employment for people who are blind or have significant disabilities. 
"While challenging, my new position is easier than walking up ten flights of stairs," he said. "I don't have to lift anything. I could probably stay here and work for a while, so I am looking forward to that stability." 
Every day, Merlin's team manufactures up to 200 knives. More specifically, this team of talented individuals is responsible for the production of the automatic, out-the-front, spear point knife. This knife is one of the most challenging tools that Merlin is responsible for producing. Over time, Merlin has continued to perfect his skills. "We want our troops to have the best," he said. "We take pride in building these knives to the best of our ability, so they function the way they're supposed to." 
Once the knives are manufactured, they are then boxed, labeled, packaged, and readied for shipment. Merlin's job requires a lot of teamwork, and he has enjoyed getting to know the other people working alongside him. "We all visit each other and encourage each other throughout the day," he said. "We chit-chat because we're so close to one another. Most of the day we're listening to rock-and-roll." 
Merlin says having a disability shouldn't hold a person back from being able to have meaningful employment. "Some companies say they can't hire someone because of a disability, but that's not true. What does a plate in my ankle have to do with my hands? But companies say that, and they discourage hiring and put us to the side. We don't always get a fair share at times, but we can always do the work."  
Merlin hopes to have this job for as long as he can so he can continue to earn money and contribute to something bigger than himself. 
If your organization is interested in employing people with disabilities, please contact customerservice@sourceamerica.org. 
---
Enjoy this? You might like these stories, too: