Innovative technology lends a hand with the Glove Assist
By Jason Golden
•
05/10/2021


Everybody needs a helping hand now and again. SourceAmerica's Productivity Engineering team is dedicated to finding solutions that enhance the talents and skills of people with disabilities in the workplace.
JD Wyatt, CEO of nonprofit agency Ka Lima O Maui, has seen the process play out first-hand. In early 2020, he was concerned for the health and safety of one of his employees. Adrian Rodriguez had limited use of one of his arms and was dependent on others to help him put rubber safety gloves on correctly for his job as a custodian. "This became particularly important with the onset of the COVID-19 pandemic, which necessitated an enhanced level of safety precautions," said Wyatt.
This topic came up during the agency's call with SourceAmerica® liaison Ellen Telander, whose role is to connect nonprofit agencies in the SourceAmerica network - like Ka Lima O Maui - to resources that help grow employment opportunities for people with disabilities. Telander knew just what to do.
"I reached out to our Productivity Engineers to bring this particular situation to their attention," she said. "I knew right away that this was going to be an important project for them with the pandemic bringing a heightened awareness around personal protective equipment."
The Productivity Engineers understood the issue and went right to work to come up with a plan that would work for Adrian. With the support of SourceAmerica's Director of Productivity Engineering Cas Usiatynski and his talented team of engineers, a prototype for the "Glove Assist" was developed. The goal of the patent-pending Glove Assist was to help a person safely and properly put rubber gloves on without the help of another individual.
"In addition to directly supporting Adrian to become more productive and independent in his job, we saw the potential for an automated system that can help individuals quickly and safely put on rubber gloves," said Usiatynski. "We wanted to create something that made a positive difference for Adrian's current needs but was also scalable to different settings and scenarios," he added.
Usiatynski's workshop, located in Oswego, New York, was the setting for much of the design work for the Glove Assist. Always brimming with activity, with up to two dozen projects under development at any given time, the shop provided an ideal workspace to bring the Glove Assist to fruition. However, it was the Zoom meetings with Rodriguez, Wyatt, and others at Ka Lima O Maui where the big ideas were exchanged with the engineers. "Connecting all of the key players via video conference on Zoom was an ideal way for us to collaborate on this project since everyone involved was spread from Hawaii to New York and many places in between," said Usiatynski.
The result of months of design and testing has proven successful, as the Glove Assist has been a big hit with Rodriguez and his colleagues at Ka Lima O Maui. "It makes my life easier," he said.
For more information about SourceAmerica Productivity Engineering, please email ProductivityEngineering@SourceAmerica.org.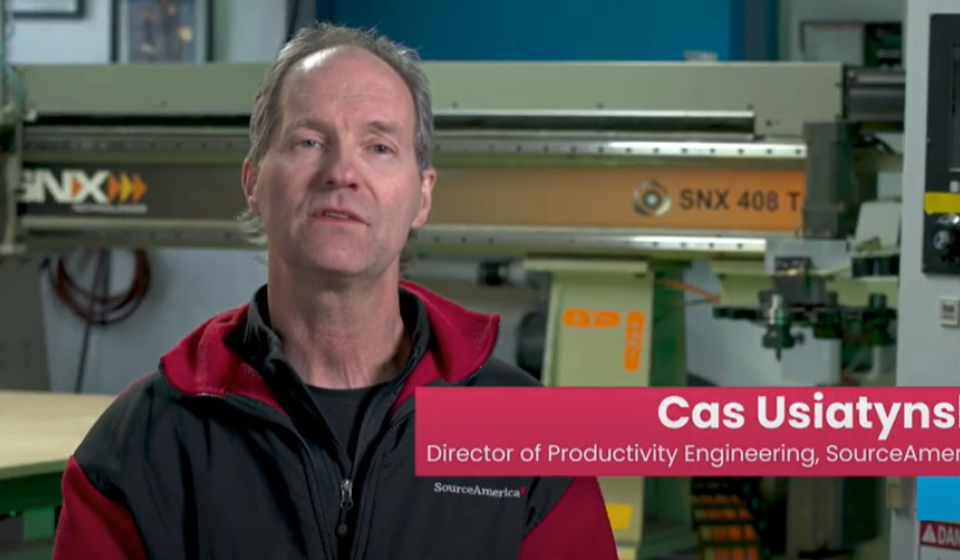 Watch Video:
Innovative technology lends a hand with the Glove Assist
---
Enjoy this? You might like these stories, too: