Finding fulfillment on the production floor
By Tatiana Peralta
•
10/05/2021


SourceAmerica is celebrating National Disability Employment Month! As part of this recognition, we are shining a spotlight on the nonprofit agencies in the SourceAmerica network and the people with disabilities they employ. 
 
People with disabilities assemble a variety of tools that are used at federal office buildings, military installations, and more. Every item, whether big or small, plays a role in keeping our federal government running. Since 1974, people with disabilities employed through AbilityFirst, one of the nonprofit agencies in the SourceAmerica® network, have manufactured millions of hole punches for the U.S. government.  
Recently, a new member of the AbilityFirst family caught the eyes of its leadership team for his positive attitude and "can do" demeanor. Eric Sheppard joined over a dozen people with disabilities employed with the organization as a Production Aid. In this role, Eric assembles hole punches -- a tool often found in the file and print rooms of many federal workplaces. He does the job proudly because he knows his contributions are important for the government. 
"Eric's attitude is contagious. He likes to learn new things and gets along well with everyone. Once he learns the job, he doesn't need much guidance," said Rob Wahlstrom, Senior Director of Operations and Properties at AbilityFirst.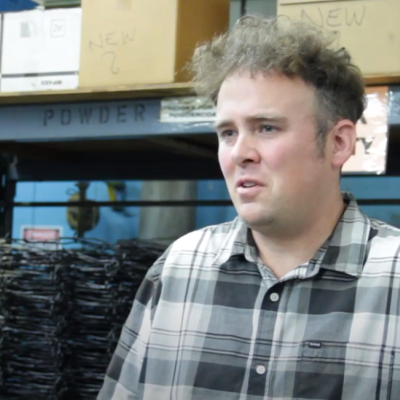 Eric is one of more than 40,000 individuals in the United States employed through the AbilityOne® Program, one of the largest sources of employment for people who are blind or have significant disabilities. Eric has quickly integrated himself into every aspect of the work, carefully listening and soaking in everything he can to be an asset to the organization. 
In fact, Eric and his colleagues are tasked with creating 65,000-hole punches in a single year. Because of the number of steps involved in creating a single hole punch, the job requires focus, adaptability, and a diverse set of skills and talents. 
The process to get the product ready for delivery includes assembling, sanding, and powder-coating each hole punch. Eric's favorite part of the job is powder-coating, the durable spray paint that is used on the hole punches to help them last. The paint can stand up to regular wear and tear and even extremely tough environments, which makes them the perfect product for military installations and missions.  
Although Eric has only been with the organization since 2019, his skills have grown exponentially. AbilityFirst has equipped him with the right amount of knowledge and tools to become a superstar on the manufacturing floor. Every step of the way Eric has felt supported and respected. "I love the atmosphere at AbilityFirst. The people are really nice, and my co-workers treat me with respect. That's all I could ever ask for," he said. 
Eric hopes to continue developing his toolbox of talents. He is grateful that AbilityFirst and the AbilityOne Program have given him an opportunity showcase his abilities and focus on his strengths. 
To learn more about how your organization can employ people with disabilities, email customerservice@sourceamerica.org. 
---
Enjoy this? You might like these stories, too: