Climbing the ladder to long-term success
By Tatiana Peralta
•
08/03/2021


The smallest tools can sometimes make the biggest difference. For example, wiping cloths are used to clean spills, eye wear, mirrors, and more. The U.S. Navy uses wiping cloths as a filter when cleaning and flushing reactors on nuclear submarines, making this product essential for many of its missions. What many people don't know is that millions of these cloths are manufactured each year by people with disabilities in Easton, Maryland. 
Sheri Gardner is employed by Chesapeake Bay Industries, Inc. an affiliate of the Chesapeake Center. She works through the AbilityOne® Program, one of the largest sources of employment for people who are blind or have significant disabilities. Her job is to produce hundreds of cloths a day, and she doesn't take this responsibility lightly. Sheri has been with Chesapeake Bay Industries, one of the nonprofit agencies in the SourceAmerica® network, for over 15 years. She never skips a beat and has grown to be one of the organization's shining stars.  
When Sheri first joined the organization, she had very little sewing experience. She was initially timid and a tad bit reluctant to jump into the deep end and learn a new skill. Through on the job training, training, and guidance, she has become a rock star employee. Today, Sheri contributes greatly to the Chesapeake Bay Industries mission by producing around 500 cloths in a single day.  
"My favorite part of the day is seeing my friends and co-workers," said Sheri. "But, most importantly, I love that I get to do this. I love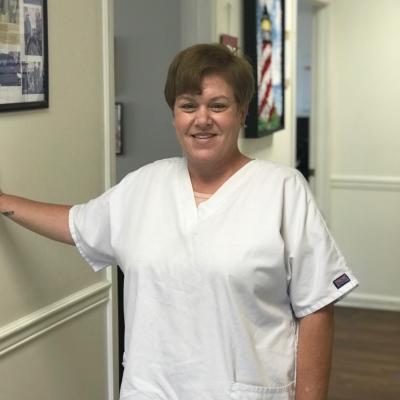 seeing my final product and knowing that everyone has different stitching that they come up with for the wiping cloths." 
Throughout her career, Sheri has flourished in her manufacturing abilities and interpersonal skills. She has become a master at the sewing machine, and always knows how to trouble shoot a problem and save the day. Her job has become second nature to her, but she is always looking for ways to grow. If there's a new skill to learn, Sheri doesn't shy away. Over time she has learned how to tie lanyards, sew airport blankets, and more. More importantly, she has gone from being a timid employee to a social butterfly that is always willing to share her story and lend a helping hand. 
"I don't mind helping anyone," said Sheri. "I will always take the shirt off my back for others." 
Chesapeake Bay Industries is committed to supporting Sheri in any way they can. From supporting her in obtaining her driver's license, to helping her make necessary medical appointments, or providing transportation to the doctor, the organization has been there every step of the way. Sheri is now independent enough to do many of these things on her own.  
"Sheri has matured and grown into an independent woman. She is a dependable member of her production team and contributes her ability to manage change, handle suggestions, and accept tips for improvement," said Donna L. Harrison, President and CEO of Chesapeake Center. "She is a friend to all, generous, helpful, and sensitive. Every day, Sheri brings her smile, pleasant attitude and willingness to do the best that she can." 
In the future, Sheri hopes to get a GE diploma and learn how to become a hair stylist. She's a true believer in inclusivity and that people with disabilities have talents that can contribute to any workplace. "There are places where people with disabilities can work and things they can do," said Sheri. "No one should judge anybody. I was always taught to accept everyone and that's just me!" 
To learn more about how you can hire people with disabilities at your company, please contact customerservice@sourceamerica.org. 
---
Enjoy this? You might like these stories, too: