A bike ride for hope: Spreading disability awareness from coast-to-coast
By Jason Golden
•
08/19/2021


It was another sweltering summer day in Washington, D.C. when a team of cyclists in brightly colored jerseys arrived at the U.S. Capitol. Unbeknownst to most bystanders, this group had just completed a nearly 4,000-mile, 59-day journey all the way from California.  
These young men, representing universities and colleges across the nation, were from Pi Kappa Phi fraternity and had just finished the Journey of Hope, an annual event sponsored by nonprofit agency The Ability Experience.  
The Journey of Hope is The Ability Experience's signature event each year. Beginning in mid-June, a team of cyclists departs from the West Coast and heads for the nation's capital, dodging thunderstorms, desert heat, and even mountain snow along the way. At the end of each day, the team stops in cities and towns, both large and small, to meet with disability advocates and share stories and their experiences with people in these communities who have differing abilities.  
Cyclist Liam Wyman from North Carolina State University had been planning to participate in the Journey of Hope since he first heard about it during his freshman year.
"In addition to the personal challenge of riding a bike across the country, once I found out about what the Journey of Hope meant to so many people with disabilities, I knew that I had to find my way onto the team," he said. 
Some days on the road are grueling for the cyclists, riding upwards of 120 miles. However, two things remain constant in the cyclists' minds. First, they know that their efforts are bringing widespread awareness about the positive impact people with disabilities have on society. Second, the cyclists know they'll be welcomed at each stop by a local group of disability advocates.  
Disability advocate Austin Underwood was one of the Journey of Hope supporters at a stop in Fort Worth, Texas on July 13.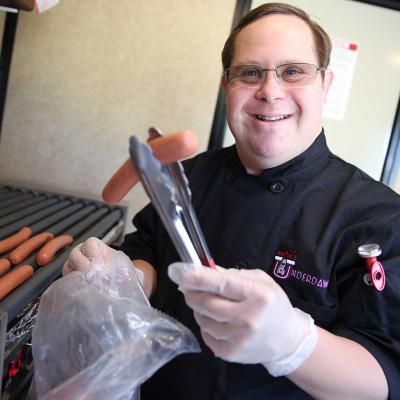 While Underwood was born with Down Syndrome, he didn't let that hinder his dreams of becoming a chef. He attended a vocational program at Eastern New Mexico University that helps people with differing abilities become candidates for employment. From there, Underwood found a job at his university's cafeteria as a prep chef which led him to making his dream job―owning a food truck―a reality. With hard work and the support of his parents, Underwood operates Austin's Underdawgs, a food truck specializing in making and serving hot dogs.  
Each year since Underwood first started supporting Journey of Hope cyclists in 2017, he's looked forward to their arrival and championing their all-important mission of spreading disability awareness. On July 13, like he had in previous years, Austin provided lunch for the team from his food truck when they arrived in Fort Worth.  
"I love to help people. I want to help teach people [with disabilities] to have responsibilities and be independent like me," Underwood said. "If people want to have a job, they should be able to have one like me! My food truck is my dream, and it came true because I worked hard." 
Basil Lyberg, CEO of The Ability Experience, echoed Austin's enthusiasm for the cyclists' arrival in Fort Worth.  
"The Journey of Hope supports the employment of people with disabilities in many profound ways. Having Austin's Underdawgs take part in our arrival in Fort Worth each year is one of the highlights of the trip. I try to make it to Texas every few years just so I can take part in that amazing experience," Lyberg said. 
After one particularly long and hot ride near the end of the journey in Virginia, Wyman was tired but very grateful for the experience. "I will never, ever forget my experiences this summer in helping to support the message that people with disabilities are and can be a part of the solution for so many things in society," he said. 
"Watching Austin serving his hot dogs in Texas really helped tie it all together for me,"  added Wyman. "Just like my challenge in crossing the U.S. on a bike, people with disabilities can do whatever they set their mind out to accomplish."  
SourceAmerica connects government and corporate customers to a national network of nonprofit agencies that hire a talented segment of the workforce–people with disabilities. If you'd like to learn more about how to work with SourceAmerica and to help continue its mission of creating job opportunities for people with disabilities, visit www.sourceamerica.org. 
To learn more about The Ability Experience and the Journey of Hope, visit www.abilityexperience.org. 
---
Enjoy this? You might like these stories, too: