Making a more inclusive future of work.
We define the future of work as the intersection of social, legislative, economic and technological forces shaping the labor market. People with disabilities have largely been left out of the dialogue which could worsen long-term trends in access to employment.
In response, we developed a human-centered design project with over 100 contributors.
Findings & Results
The result is a systems-based examination of the current disability employment landscape and how the interconnected behaviors of groups contribute along with recommendations for future change.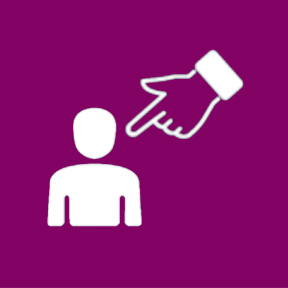 Stigma & Low Expectations
Unless there is fundamental change in the value society places on people with disabilities, progress is unlikely. Contributing factors include:
Disclosure of disabilities may lead to discrimination, whereas nondisclosure may lead to limited or no access to accommodations.
The onus is on people with disabilities to disclose their disability, further aligning them with an undervalued societal identity.
Media depictions of sympathetic characters or heroes overcoming adversity overshadow the fact that disability is a normal part of the human condition.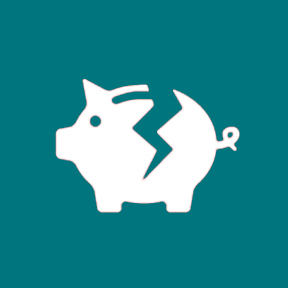 Poverty & Isolation
People with disabilities experience a rate of poverty averaging 15 percent higher than their nondisabled peers. Contributing factors include:
Competing goals among advocates for inclusion may result in confusion and inaction by policymakers.
Policies often unintentionally benefit some groups at the expense of others.
Family members and caregivers can contribute to a culture of dependence based on fear of change.
Benefits systems designed to help people escape poverty discourage people with disabilities from seeking gainful employment.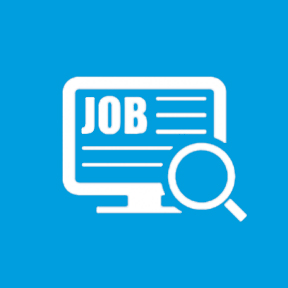 Un- and Underemployment
Millions of people with disabilities are completely disconnected from the labor market and are not represented by statistics reported by media outlets. Contributing factors include
Educational resources that are disproportionately skewed toward those without disabilities.
Many people with disabilities lack the skills and credentials demanded by employers due to issues related to accessibility and affordability.
People with disabilities are often screened out of job-matching algorithms. Stigma and low expectations limit investment in the employability of people with disabilities.
There is a negative perception around accommodations for inclusive workplaces and a gap between accessibility and usability.
---
Our Recommendations Include:
Improve Disability Data Clarity & Collaboration
This recommendation proposes a pilot program to better calibrate employment algorithms that help prevent bias toward people with disabilities in the education and employment systems.
Needs or Challenges to be Addressed
Data needs to be responsive to real-time situational changes.
Individuals have avenues to provide data but lack a platform.
Individuals lack control over their information and how it is used.
Trends or Futures Anticipated
Increased reliance on data-driven decision-making through algorithms.
A greater willingness of individuals to claim an identity through crowdsourcing and social media.
Short- and Long-Term Stages
Research current trends and develop a list of existing ways to address noted gaps in data on people with disabilities.
Conduct random sampling of 1,000 people with disabilities to determine necessary data.
Develop a secure platform where individuals can self-report data and demonstrate potential benefits.
Create AI Modeling of Impacts of Policy & Regulatory Changes
This recommendation proposes the creation of an open-source interface that, using big data and predictive algorithms, would allow policymakers to model the potential impacts of their decisions on people with disabilities.
Needs or Challenges to be Addressed
Currently, there are multiple federal, state and local entities creating, interpreting and implementing policies that impact people with disabilities.
There is no central data-driven decision-making tool to inform policymakers and regulators of redundancies, inconsistencies, conflicts and unintended consequences of new policies and regulations.
Trends or Futures Anticipated
Increased use of AI and machine learning.
Root cause of conflicts and barriers to progress addressed—leading to purposeful decisions on who to serve and who not to serve.
Nimble responsiveness to disruption through data-driven policy and regulatory interventions.
Short- and Long-Term Stages
Create a full accounting of all policies and regulations that impact people with disabilities, including associated budget allocations and measured outcomes.
Design test phases with key stakeholders, building from existing technology on agent-based modeling.
Determine scalability and long-term costs and benefits.
Improve IEP and Vocational Rehabilitation Plans
This recommendation proposes the development of holistic plans that take into consideration education, employment and impacts to medical benefits to better serve people with disabilities as they transition from school to work.
Needs or Challenges to be Addressed
Medical, education and employment plans need to be seamlessly connected over the lifetime of people with disabilities.
Biases about what people can do need to be addressed.
Trends or Futures Anticipated
Greater understanding of how to expand personalized learning plans for all without sacrificing specific supports and civil rights for students with disabilities.
Fulfilling policy goals by linking disconnected programs to build continuity in services throughout a person's life and establish a clear path for achieving their career goals.
Short- and Long-Term Stages
Identify what needs to change (assessments, policy on funding following the child, data collection and evaluation, etc.).
Determine how to personalize but maintain standardized processes and evidence-based strategies.
Educate medical professionals and academic professionals about disability and early intervention.
Pilot at the state level before going national.
Implement Non-Income Based Long-Term Support Services
This recommendation proposes detaching support services from income levels as a way to decrease the fear of losing supports and increase the number of people engaged in the labor market.
Needs or Challenges to be Addressed
There is a disincentive for people with disabilities to increase their earnings—reinforcing the outcome of poverty resulting from stigma and discrimination and un- or underemployment.
The present framework for qualifying for benefits prevents upward mobility.
There are variations in supports between states.
Trends or Futures Anticipated
Increasing corporate interest in diversity and inclusion, resulting in a willingness to provide workplace accommodations.
Increasing international pressure for domestic public policy alignment with the objectives of the United Nations Convention on the Rights of Persons with Disabilities.
Increasing international pressure to support achievement of the United Nations Sustainable Development Goals.
Short- and Long-Term Stages
Conduct comprehensive research on the benefits of non-income based long-term support services.
Review international approaches.
Convene a meeting of experts from across stakeholder groups to identify issues and model new approaches.
Develop and launch demonstration programs to measure outcomes.
Enhance Telework Presence in Remote Work
This recommendation proposes increasing access to remote work opportunities for people with disabilities to significantly reduce barriers impacting access to work.
Needs or Challenges to be Addressed
There is a disconnect between remote work from work culture and career advancement (isolation from physical workplace).
There needs to be flexibility in work location to address multiple physical, psychosocial and economic barriers to ideal employment outcomes.
Trends or Futures Anticipated
Robotic advancement for office rovers.
Growth of augmented reality (AR), mixed reality (MR), virtual reality (VR) and extended reality (XR).
Accelerating growth of the gig economy.
Increase in the availability of remote work.
Short- and Long-Term Stages
Source appropriate technology.
Develop metrics and evaluation plan for pilot programs.
Verify accessibility of telepresence devices and systems.
Initiate pilots of:

Telepresence technology.
Robotic rovers that can integrate with the workplace for remote workers.
Accessible workplace simulation for remote employees with disabilities.

Develop funding and promote the ubiquitous use of telepresence supporting rovers and AR/MR/VR/XR for remote workers.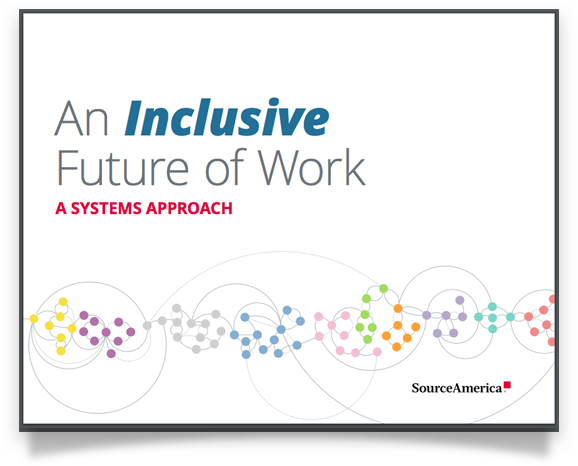 Download the Report
This report is meant to serve as a foundation for improving access to meaningful and sustainable careers for people with disabilities.
In this report you'll find:
A systems-based approach to an inclusive future of work.
A deeper understanding of the inhibiting factors people with disabilities face.
Recommendations for social change.