Design Challenge Teams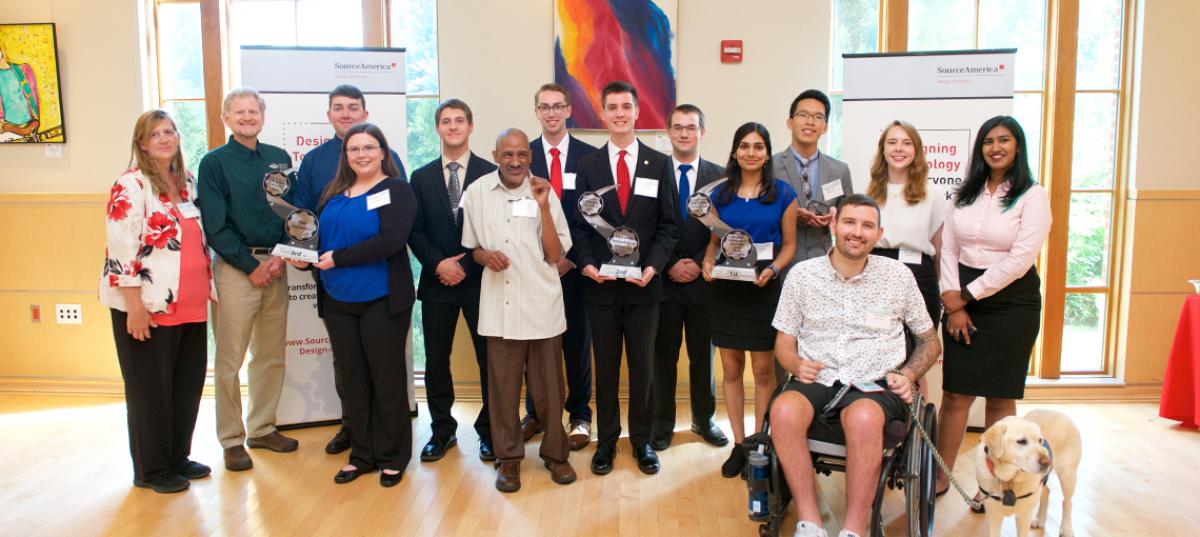 Design Challenge June 2019, winning teams
Why Should You Participate in the SourceAmerica Design Challenge?
Get real-world engineering experience by developing people-centered design solutions
Participate in congressional advocacy to raise awareness of the challenges people with disabilities face in the workplace
Improve the earning potential for people with disabilities
Create a positive, lasting impact on community-based nonprofit agencies that employ people with disabilities
Earn school credits
Win monetary awards
How It Works
The 2020 - 2021 Design Challenge is a virtual engineering competition. As a Design Challenge participant, you will form a team; choose a project; design a technology to address that project challenge; then fine-tune and document your invention.
Instead of visiting local businesses, students will engage through a series of webinars and choose from a list of preselected projects. These projects range in disciplines from mechanical engineering to software development and will be available after registering.
The preselected projects have been chosen for their scalability across SourceAmerica's network of nonprofit agencies and their potential employment impact. Each project has been thoroughly reviewed and can be completed at home with limited access to sophisticated tools. Judging is based on design work that can be presented through 3D CAD files, 3D print files, animation, videos of simple prototypes, or code examples.
Winning teams will participate in a national virtual finals event.
The best part is probably just being able to see the design go through and actually being able to apply everything I've learned and being able to see it in real life and then also being able to actually watch as my device is actually helping someone.
Kaitlyn Dempsey
2018 Design Challenge Student Participant