Know Before the Show
The Xforce 2022 National Conference kicks off on Monday, May 23, and we look forward to seeing you! 
Before you head to Dallas, we have outlined some helpful tips for your convenience.
Hyatt Regency Dallas
300 Reunion Boulevard
Dallas, Texas 75207
1-214-651-1234
hyattregencydallas.com
SourceAmerica has reserved a block of sleeping rooms at the Hyatt Regency Dallas at a negotiated room rate of $239.00 ($275.47 with taxes and fees) per night for single and double occupancy. Hotel check-in is 4:00 p.m. on your arrival day and check-out is 11:00 a.m. on your departure day.
Hotel Key Cards
IMPORTANT!! To avoid deactivating your hotel key cards, we suggest keeping it away from your cell phone, other electronic devices, or anything magnetic.
Hotel Safety
Verify all unexpected deliveries or hotel staff room entry requests with the front desk and always look through the peephole to see who is at the door.
Be observant. Don't venture into parking lots of darkened areas. If needed, the hotel should be able to provide a security escort, so don't be afraid to ask for one. It is not an uncommon request.
Use the deadbolts or auxiliary locks provided on the door.
Never sit in a room with the door left open, and don't leave the door open for an extended period, even to get ice.
Use the in-room safe (or hotel vault of safe deposit box) for your valuables.
Don't reveal room numbers within earshot of unfamiliar people. If a front desk clerk mentions your room number aloud in front of suspicious strangers, you can request another room.
Don't enter a room if the door is ajar.
REMEMBER, DON'T TAKE CHANCES. WHENEVER IN DOUBT, CALL FOR HELP
Smoking Policy
The Hyatt Regency Dallas is a non-smoking hotel. Smoking is not permitted in any area of the hotel, including guest rooms, suites, public areas, restaurants, and meeting/banquet rooms.
Pet Policy
No pets are allowed except for service animals for persons with disabilities. While there is no dedicated pet relief area, there are plenty of grassy areas around the perimeter of the property.
You can find more information about the hotel, as well as parking and transportation options on the Xforce website.
Arrival and Conference Check-In
After you check into your guest room, please return to the Atrium Level (located in the hotel lobby) and follow the signs to Xforce Registration to check-in, print your name badge, and receive Xforce materials. This badge must be worn at all times for entry to all Xforce sessions and events.
At the Registration Desk, you will be asked if you are attending certain events and if you are bringing guests, e.g., for the Awards Banquet. The information is important to have an accurate count for meals.
Registration dates and times:
Sunday, May 22 - 11:00 a.m. to 4:00 p.m.
Monday, May 23 - 6:45 a.m. to 1:45 p.m.
Tuesday, May 24 - 7:00 a.m. to 5:00 p.m.
Wednesday, May 25 -7:00 a.m. to 3:30 p.m.
PRE-REGISTERED ATTENDEE CHECK-IN
All pre-registered conference attendees can check in and print their own name badges at self-service kiosks located in the Xforce Registration area.
If you pre-registered for conference online, you will receive an email from Cvent on Friday, May 20 with your registration confirmation number and a QR code. In order to print out your conference name badge, you will need to either scan the QR code OR input your first and last name.
For touchless check-in, you can log into your Cvent Xforce registration in advance of conference to either print or take a screenshot of your QR code. You will need to scan the QR code at the kiosk. The system will ask to verify the spelling of your name, update any errors, and print out your name badge.
ON-SITE REGISTRATION
If you or your guests have not yet registered for the Welcome Reception/Art Gallery event or the Awards Banquet, you can purchase these tickets onsite.
INFORMATION DESK
Want additional information about the conference? Stop here for answers to your questions.
SourceAmerica has put in place preventive measures to reduce the spread of COVID-19 and ensure all participants can take part safely in the Xforce National Conference. However, an inherent risk of exposure to COVID-19 exists in any place where people gather, and SourceAmerica makes no guarantee that participants will not become infected with COVID-19. Read the COVID-19 Safety Protocols on how you can help attendees stay safe.
All conference attendees will be provided a personal protective equipment (PPE) kit that includes:
Reusable face mask
Hand sanitizer
Disinfectant wipes
Information card indicating the nearest pharmacies and hospitals (should attendees feel ill)
Should you need additional PPE and supplies, please stop by the Xforce registration area to obtain them.
In the conference registration area, we will provide color-coded comfort buttons to serve as an indicator of attendees' comfort with social distancing and handshaking. We encourage everyone to affix the button on their conference lanyard and ensure that it is easily visible to others throughout the conference.
There will be signage in all attendee areas reminding participants to use hand sanitizer and follow mask-wearing guidelines.
Any concerns about COVID-19 and safety should be directed to Jessica Hardy.
Health Verification Questionnaire
Prior to entering Xforce, all attendees will be required to complete a health verification questionnaire via Cvent Health Check (powered by ID.me) on Sunday, May 22 or Monday, May 23.
For a first-time verification you must first create an ID.me account:
Step 1: Visit ID.me and select "Create an ID.me account."
Step 2: Verify your email
Step 3: Verify your identity. You can verify via Phone Number (recommended), Driver's License, State ID, Passport Photo or Passport Card.
Step 4: Confirm your information is correct.
Step 5: You're done!
After you have created an account
Follow steps 1-3 to submit your health verification questionnaire and share your submitted response to the Cvent OnArrival team at the Event Check-In desk. It takes approximately 3 minutes to complete.
Step 1: Visit ID.me and login to your ID.me account.
Step 2: Select health questionnaire and submit.
Step 3: You will be verified within a few minutes.
The dress code for Xforce is business casual. Hotel temperatures vary so layers are recommended such as a jacket or sweater. Specific events with different expectations are outlined below:
| Day | Event | Dress Code |
| --- | --- | --- |
| Monday - Wednesday | Sessions | Business Casual |
| Wednesday | Awards Banquet | Cocktail attire (suit, pantsuit, dress/skirt) |
SourceAmerica will use the CrowdCompass mobile app enabling you to have the Xforce experience at your fingertips. The app will help keep you informed, engaged, and connected with everything important to you.
Download the app by searching stores (Android or Apple) for CrowdCompass Attendee Hub from your mobile browser: https://event.crowdcompass.com/xforce2022
Open the app and search for Xforce 2022 National Conference and download.
Press the Login button and enter your First and Last Name. Then enter YOUR email address (use the same email you used to register for Xforce).
A confirmation code will be sent to your email address.
Open the email with the subject line: Verification Code for Xforce 2022 National Conference
Enter the Confirmation Code into the app. Select "Finish" to be fully logged into the app!
Join the Xforce Challenge – the interactive game for the Xforce 2022 National Conference. Complete challenges, earn points and badges, and win prizes.
You will automatically be awarded points for each interaction you complete in the conference app.
Different interactions will help you gain special achievements throughout the event.
Climb your way to the top of the leaderboard as you post photos, scan in at booths, attend sessions, and gather achievements.
Check out the rules below, but most importantly, have fun!
Meals Provided by SourceAmerica
Meals provided by SourceAmerica during conference are listed below. Please note that breakfast on Monday is not included.
| Day | Event | Time | Location |
| --- | --- | --- | --- |
| Monday | General Lunch | 11:30am-12:30 p.m. | Marsalis Hall A/B |
| Monday | Welcome Reception/Art Gallery | 4:30-6:30 p.m. | Marsalis Hall A/B |
| Tuesday | General Breakfast | 7:00-8:00 a.m. | Marsalis Hall A/B |
| Tuesday | General Lunch | 12:45-1:45 p.m. | Marsalis Hall A/B |
| Wednesday | General Breakfast | 7:00-8:00 a.m. | Marsalis Hall A/B |
| Wednesday | General Lunch | 12:45-1:45 p.m. | Marsalis Hall A/B |
| Wednesday | General Reception | 5:00-6:00 p.m. | Landmark Foyer |
| Wednesday | Awards Banquet | 6:00-9:00 p.m. | Landmark Ballroom |
Hyatt Regency Dining Options
Centennial
Breakfast: 6:30 a.m. - 10:30 a.m. Daily
Lunch: Monday - Saturday: 11:30 a.m. – 2:00 p.m.
Monduel's
Sunday: 11:30 a.m. - 12:00 a.m.
Monday - Thursday: 3:00 p.m. - 12:00 a.m.
Friday - Saturday: 2:00 p.m. - 1:00 a.m.
Parrino's
Friday - Saturday: 5:30 p.m. - 10:00 p.m.
Birds, Bourbon, and Brews
Sunday – Thursday: 5:00 p.m. - 9:00 p.m.
Coffee Post/Room Service
24 Hours
 
Dining Options Near the Hotel:
WiFi will be available throughout the conference floor and throughout the duration of Xforce. Printed cards will be located in each meeting room with the code to access the internet.
Wireless internet access is also available in your hotel room at no additional charge.
The Internet Café, located in the Networking Lounge, is open Monday through Wednesday and is available for conference participants.
For assistance with anything related to conference, please look for signs to the Information Booth. You'll be able to gather general details about the meetings, pick up a printed version of the Schedule-At-a-Glance, retrieve any items that have been lost, sign up for ad-hoc space, and much more.
The Information Booth is located across from the Registration area and will be open during these hours:
Sunday, May 22: 11:00 a.m. - 4:00 p.m.
Monday, May 23: 8:00 a.m. - 1:45 p.m.
Tuesday, May 24: 7:00 a.m. - 4:00 p.m.
Wednesday, May 25: 7:00 a.m. - 3:00 p.m.
Emergency Evacuation Information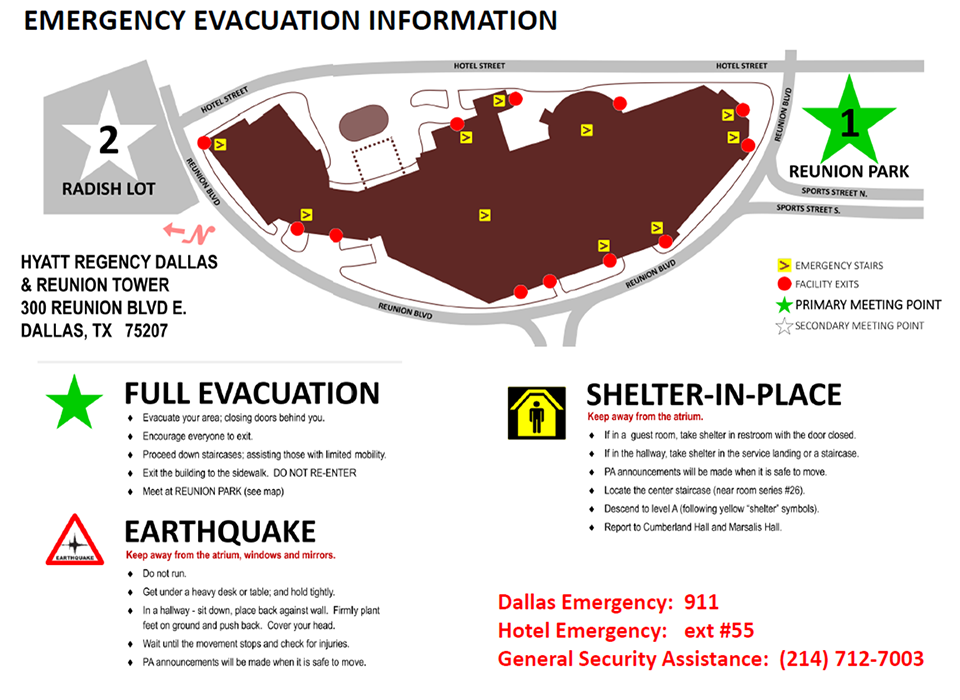 Full Evacuation
Evacuate your area; closing doors behind you.
Encourage everyone to exit.
Proceed down staircases; assisting those with limited mobility.
Exit the building to the sidewalk. DO NOT RE-ENTER.
Meet at REUNION PARK (see map)
Earthquake
Keep away from the atrium, windows and mirrors.
Do not run.
Get under a heavy desk or table; and hold tightly.
In a hallway - sit down, place back against wall. Firmly plant feet on ground and push back. Cover your head.
Wait until the movement stops and check for injuries.
PA announcements w3il be made when it is safe to move.
Shelter-in-Place
Keep away from the atrium.
If in a guest room, take shelter in restroom with the door closed.
If in the hallway, take shelter in the service landing or a staircase.
PA announcements will be made when it is safe to move.
Locate the center staircase (near room series #26).
Descend to level A (following yellow "shelter" symbols).
Report to Cumberland Hall and Marsalis Hall.
Dallas Emergency: 911
Hotel Emergency: ext #55
General Security Assistance: (214) 712-7003
Should an emergency event occur with a magnitude that impairs communication between you, colleagues, and family at the hotel or in the Dallas area, Source America has an emergency plan.
A communications representative located at our National Office, in Vienna, VA will post updates and the location/status of individuals attending Xforce on www.SourceAmerica.org.
This assembly area map below indicates the exits and gathering locations in the event of an emergency.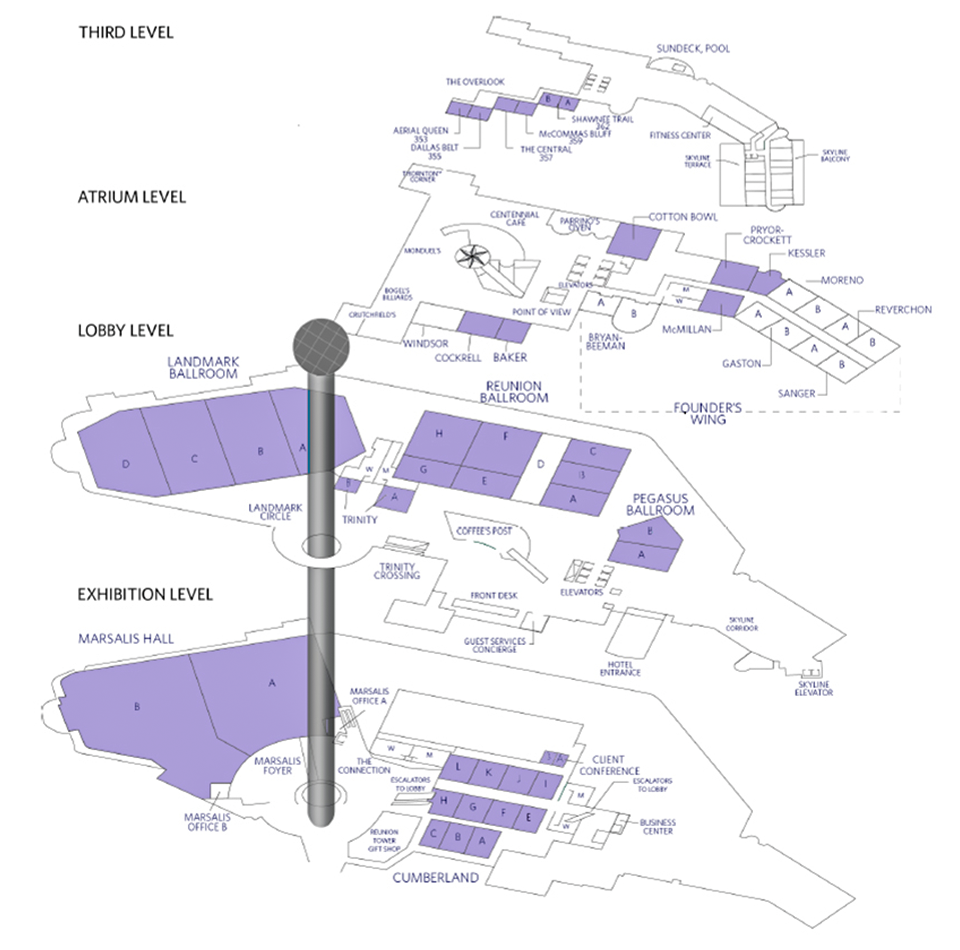 Should you still have questions after reviewing this guide, please visit the Xforce Conference FAQs page. We can't wait to see you in Dallas!