Quality Work Environment
Continuous Improvement for Employers of Individuals with Disabilities
The Quality Work Environment (QWE) Program is a continuous improvement framework that is utilized by both AbilityOne® producing and affiliated nonprofits (NPAs), state vocational rehabilitation agencies, and organizations that employ or facilitate the employment of people with disabilities.
QWE is unique in that it offers agencies the opportunity to bring employees with disabilities into the standard-setting process. As part of the QWE process, agencies work with QWE staff at SourceAmerica® to discuss current employment practices where they will identify areas for improvement and ways to implement and share employer practices that maximize the employment potential for people with disabilities.
The QWE database includes employer practices shared by NPAs and other organizations that employ or facilitate the employment of people with disabilities.
Why Participate in the QWE Program?
Resources for Producing NPAs
Producing nonprofit agencies are eligible for the following resources free of charge:
QWE efforts include all workers with disabilities at AbilityOne producing NPAs and is not limited by the number of AbilityOne contracts or AbilityOne employees.
Facilitated self-assessment and planning services that assist NPAs in identifying areas of improvement and creating meaningful action plans aimed at implementing improved employment and inclusion practices.
Access to a searchable database of employer practices.
Access to reporting and tracking tools.
SourceAmerica points of contact for questions and follow-up.
Up to $10,000 per year is available to aid participating NPAs in implementing QWE action items and achieving improvement goals.
Numerous resources dedicated to QWE success — including training opportunities, productivity engineering, and access to subject matter experts.
Resources for SourceAmerica Affiliates
Organizations that are affiliated with SourceAmerica but are not producing on an AbilityOne contract may utilize SourceAmerica's training resources free of charge including training opportunities and productivity engineering services.
---
QWE Workbook. This workbook is used by all participants to assist with the QWE self-assessment. It contains program details, project planning sheets, and instructions for completing the assessment.
QWE Topic-Based Assessment. Abbreviated versions of the full QWE assessment are included in this workbook. Topics include Work of Choice, Productivity Improvement, and Financial Planning. Participants may choose to complete one or more topic-based assessments instead of the full assessment.
"QWE has been the platform to examine and evaluate our mission, vision, values, policies, and initiatives against the best practices in our industry, and then to concentrate our efforts and resources in those areas where we can do better. "
Jerry Bettenhausen
former CEO of Work Services Corporation
---
Other Resources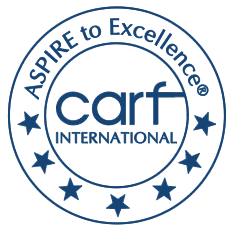 QWE recognizes the efforts of NPAs seeking CARF accreditation in the area of Employment and Community Services. CARF International is an independent accreditor of health and human services. CARF-accredited programs benefit from industry best-practice standards and consultative peer-review as part of a continuous improvement process focused on the persons served. Contact the QWE team to learn how QWE planning and resources may be utilized to enhance CARF related process improvements.
Connect with SourceAmerica's QWE Team
For more information about how QWE can help your organization, contact us at QWE@SourceAmerica.org.